Fastaval - Otto i Eventyrland (2018)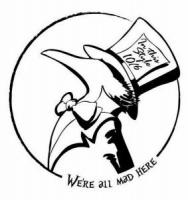 Location: Mariagerfjord Gymnasium og Hobro Idrætscenter, Hobro, Denmark 🗺️
Date: 28. March - 1. April 2018
About the convention:
Fastaval er Danmarks største rollespils- og brætspilskonference med nydesignede spil skrevet specielt til Fastaval!

Entré: 300 kr. for alle dage.

Æresgæst: Avery Alder.
Download
Awards:
Æresottoen
Peter Lind

Hvis du har været på Fastaval, så har du været forbi Peter Lind. Måske ikke direkte, men i form af hans kreationer. Peter har skabt og udviklet Infosys, som er systemet, der får hele Fastaval-maskinen til at køre. Al din data fra tilmeldingen ender der, og derfra dannes der hold både ift. fordelingen af spilledere, organiseringen af spilstart, udleveringen af mad og meget meget mere. Det er et værktøj, som gør livet nemmere for arrangørerne, og dermed også deltagerne. Udover at være manden, der har skabt dette system, og fortsat udvikler på det, så er Peter et roligt og rart menneske, som gerne deler ud af sin ro til mange frustrerede arrangører, som gennem tiden har modtaget fornyet energi.

Kort sagt: Hvis Peter og Infosys forsvandt fra den ene dag til den anden, så ville Fastaval falde til jorden.
Anders Berner

Udover sit store arbejde i Landsforeningen Bifrost er Anders også den person, som står i kulissen med en kæmpe opbakning til dem, der laver forskelligt græsrodsarbejde og aktivisme i og for miljøet, og har på den måde bidraget til arbejdet mod ulighed, sexisme og overgreb. Han er også konstant på klingen i de politiske miljøer, og har gennem sit lobbyarbejde gjort en kæmpe forskel for foreningsmiljøet i København og resten af Danmark. Han har gennem tiden haft meget brede skuldre, og har løftet langt mere for fremtidens rollespil end langt de fleste af os til sammen.

Anders er en af de rollespillere, som det danske miljø kan være mest stolt af.
Frederik "Storm" Nylev

Nogle gange fortjener man et skulderklap for et projekt, der gavner miljøet, men nogle gange er det også vigtigt at hylde dem, som i alle deres projekter tager hensyn til "de glemte".

Frederik har i løbet af de sidste 25 år lavet projekter, som tager hånd om og giver plads til de skæve eller til folk, som har svært ved at finde deres vej i livet.

I flæng kan nævnes Imperie-projektet, som i 2 omgange har hjulpet unge fra udsatte områder til at finde et fællesskab, hvor der var plads til dem.
Frederik har også været med til at åbne op for og udvikle projektgrupper, hvor der har været plads til folket. Dette gælder både store og kendte scenarier som Kapo og Dirtbusters på Fastaval. Frederik er i sandhed en af miljøets usungne helte, og disse bedrifter ønsker vi at bringe frem i lyset.
Fastaval Junior

Fastaval har gennem tiden udviklet sig gevaldigt. Folk er forsvundet, nye er kommet til, og nogen er med tiden også vendt tilbage. En af forklaringerne på, hvorfor vi ser folk vende tilbage til Fastaval disse år er, at deres børn nu også kan være en del af connen.
Dette sker via Fastaval Junior, som sikrer rollespil i børnehøjde, og på den måde får ungerne mulighed for at komme ud og spille fantastiske scenarier med nye spilledere og andre børn. Alt det man som voksen kender og holder af ved Fastaval.
Fastaval Junior giver på den måde forældre en nem og sikker måde at introducere deres børn til Fastaval, mens de selv er ude og spille nogle scenarier, rulle nogle terninger eller mindes gamle tider over en cocktail i caféen. Konceptet er blevet så populært, at der allerede nu er flere, som ønsker at deltage, end der for nuværende er plads til.

Fastaval Junior er derfor et af de vigtigste tiltag, da det sikrer Fastavals fremtid ved at introducere nye unge deltagere samtidig med, at det fastholder de deltagere, som har fået børn.
Fastaval Translator Task Force

Fastaval får flere og flere internationale deltagere, og med det stiger behovet for at kunne tilbyde scenarier på engelsk også. Ligeledes skal tilmeldingen, hjemmesiden, Facebookbeskeder osv. også figurere på engelsk.

Denne udfordring har FTTF taget sig af ved at oversætte scenarier fra dansk til engelsk. På den måde har de været med til øge antallet af scenarier, som de internationale deltagere kan deltage i. Antallet af spilbare scenarier for internationale spillere er dermed blevet langt større, uden at øge arbejdsbyrden for forfatterne. FTTF består af en masse frivillige ildsjæle, der oversætter lystigt, uden at de får arrangørfordele eller andet lækkert for det - de gør det udelukkende for miljøets skyld.
Bedste Formidling
Gone

Den knugende stemning kommer klart frem i sproget, og bare det at læse scenariet giver en klump i halsen og tårer i øjnene. Spillederen får god hjælp til at håndtere et svært emne, og forfatterens ansvarlighed skinner tydeligt igennem. Det er solidt, gennemført håndværk, der klæder spilleder og spillere godt på.

The suffocating atmosphere is everpresent in the prose, and you can feel the pain just reading the scenario. The game master is given good tools to tackle a hard subject, and the author's feeling of responsibility is clear. It is solid and well crafted, making the participants well prepared for the journey.
Joan the Vampire Slayer

Underholdende læsning, der samtidig er bundsolidt håndværk, hvor man aldrig er i tvivl om, hvad man læser eller hvorfor man læser det. Buffy-/Joan-universet formidles, så man føler sig hjemme i det, uanset om man har set tv-serien eller ej.

We are led through an entertaining and well crafted reading experience, where you always know what you are reading, and why. The Buffy/Joanverse is put forward in a way where one feels at home, even if one hasn't seen the tv-series.
Hobbyhorse

Du er aldrig i tvivl om, hvad forfatteren vil med scenariet, og spillederen får både gode instruktioner til tema og afvikling. Det er veludført, let læseligt og lige til at køre. På sympatisk vis formidles bipersoner gennem deres motivationer, så selv den onde mobber fremstår som en helt normal forstadspige.

The author's voice and intentions are clear and to the point throughout the scenario. It is well crafted, easy to read and run, with clear instructions and well communicated themes. Through clear motivations, the bullies are given the same sympathetic treatment as the main characters.
Road Rage

Scenariet formidles med klare instruktioner til spilleder og virkeligt gode råd og hjælpebokse. Scenebeskrivelserne er godt struktureret og kan køres fra bladet. Scenariet kan afvikles direkte efter gennemlæsning alene ud fra oversigtsark og bilag – også for den uerfarne spilleder.

The scenario is presented with clear instructions for the game master, with good advice and textual aids. The scene descriptions are well structured, and even the inexperienced game-master can run it without much preparation, after a quick read, through the use of overview sheets.
Ten Thousand Light Years from Home

Et komplekst scenarie med mange elementer, der bliver klart og tydeligt formidlet med fine grafiske hjælpemidler. Illustrationer er både med til at give stemning, men hjælper også til forståelsen af system, univers og sceneforløb. Hver side føles gennemarbejdet og som spilleder er man er i trygge hænder fra start til slut.

Through a clear text and graphical aids, the scenario clearly presents a complex game design with many elements. The illustrations both serve to create atmosphere, and to support the understanding of the rules, univers and storyline. Every page feels well thought out and as a gamemaster, one feels well looked after from start to finish.
Bedste Roller
Aokigahara

Rollerne er ekstreme og kompromisløse. De har gode greb, der både underbygger fortællingen og deres egen plads i familien. Rollerne udbygges af spillerne på uhyggelig vis gennem scenariet. En stærk indgang til scenariet, som kan overraske og provokere spillerne.

The characters are extreme and uncompromising. They have strong mechanics, that support the story and their own place in the family. Characters are fleshed out in an unsettling way throughout the scenario. They create a strong entry into a scenario that can surprise and provoke the players.
Flowers on Svanevej

Fire troværdige unge mennesker fremstilles på en spændende og fragmenteret måde, der understøtter scenariets tematik og struktur. En autentisk skildring af tre unge mennesker på kanten, der står sammen i tykt og tyndt, og et stærk portræt af Omar el-Hussein. Rollerne har mange indgangsvinkler, og spillerne deler rollerne mellem sig på en interessant og engagerende måde.

Four youth on the edge of society are presented in an engrossing and authentic way. Three youth that stand together through everything, and a strong portrait of Omar el-Hussein. The roles are presented in a fragmented way with many potential angles, which supports the overarching themes and structure of the scenario. The roles have many entry-points, and the participants share the roles in an interesting and engaging way.
Wilting of the Lotus Empire

Rollerne ER scenariet, og rummer et hav af muligheder, intriger, konflikter og handlingstråde, som spillerne kan gå på opdagelse i. Rollerne manifesterer scenariets tema og fremstår levende og involverende.

The roles ARE the scenario, and introduce a plethora of oportunities for conflicts, intrigue, and storylines that the participants can explore. The themes of the scenario are strongly represented in the characters, that are presented in a lively and involving way.
No Thing to Fear

Dejlige, stemningsfulde dyr, der står i hver deres ekstremer, og som er med til at forstærke scenariets stemning og genre. Rollerne er, selv om de er tegnefilmsfigurer, rørende og virkningsfulde på den der genkendelige Pixar-måde.

The lovely animals brimming with character, each to their own extreme, support the scenarios atmosphere and genre. Even though they are cartoon characters, they are touching and effective, each in their own way.
Gone

En familie, der består af autentiske og troværdige mennesker. Det hele er uhyggeligt genkendeligt. Rollerne skildrer det svære og hårde ved at være en familie, der bringes sammen i en svær og hård situation. Alt i rollerne giver mening, selv om det gør ondt.

A family that consists of real people, worts and all. The conflicts are brutally recognizable. The characters show the tough parts of being a family, that is forced together in a tragic situation. Everything about them makes sense, even where it hurts.
Bedste Virkemidler
Hobbyhorse

Kæphesten er et kraftfuldt, gennemtænkt og gennemført virkemiddel. Kæphestens rolle i både spillernes og rollernes verden giver scenariet både fokus og stemning. Kæphestene har deres egen personlighed, og mere end én spiller kommer til at spille rollespil med sig selv og sin kæphest. Den fysiske kæphest giver spillerne et godt alibi i de fysiske øvelser.

The hobbyhorses are effective and well thought out. Its role in both the participants and the characters world creates a focus for both play and atmosphere. The horses have their own personalities, and more than one player will be roleplaying with themselves and their horse. Also the physical hobbyhorse creates a good alibi in the physical exercises.
The Queen on the Emerald Throne

Systemet er centralt, komplekst og alligevel meget brugbart. Det er indarbejdet i hele scenariet, og skaber grundlaget for spænding, action og intrige. Intrigerne mellem rollerne understøttes af systemet, så det skaber godt rollespil. De pokkers forrædderkugler!

The system is complex and creates a solid core for the play experience. The system is woven into every aspect of the scenario and is the central driver for an experience of excitement, action and intrigue. The intrigue between the characters is framed and supported by the system, such that that it creates good roleplaying. Those damned traitor pebbles!
Among Us

Et gennemdesignet scenarie, hvor de mange - i sig selv simple - virkemidler skaber den uhåndgribelige poesi. Virkemidlerne skaber en unik og indfølt rollespilsoplevelse, der både er fysisk og sanselig samt æterisk og fjern. Formår at forvandle det filmiske oplæg "Himlen over Berlin" til en sanselig rollespilsoplevelse på en tro og smuk måde, der er helt sin egen.

A thoroughly designed experience, where the symphony of small effects create an intangible poetry. The design creates a unique and empathetic experience, that is both physical, sensual, ethereal and distant. It faithfully adapts the cinematic inspiration of "Wings of Desire" into a sensual roleplaying experience, while still being wholly its own.
Road Rage

Spillerne får en spændende og underholdende kasse med legetøj, som de frit kan anvende til at drive hinanden til vanvid. Virkemidlerne giver spillerne ejerskab over scenariet ved også at inddrage deres egne erfaringer med vejvrede i spillet og sikrer muligheden for at råbe sig hæs i raseri.

The players are given a mad box of toys, that the players are freely able to utilise to drive each other crazy. The mechanics give the players ownership of the scenario, by asking them to use their own experiences with road rage in play and, giving the players the option to scream til they are hoarse.
Gone

Fraværet af den demensramte og direkte interaktion med Lise gennemsyrer hele scenariet. Gennem demensscenerne vises sygdommens udvikling, skåret hele skarpt på rollernes tab – derved understreges det uundgåelige i situationen, og spillerne fokuseres på relationen mellem de efterladte.

The absence of the stricken and direct interaction with Lise pervades the entire experience. The dementia-scenes show the progression of the illness, through the lens of the caracters' loss. Through this, the inevitability of the situation is underlined, and the participants are left to focus on the relationships between those left behind.
Bedste Fortælling
Joan the Vampire Slayer

En ekstremt gennemtænkt dramaturgi, hvor en medrivende og action-packed tv-serie pakkes ned i et overskueligt scenarieformat. Spillerne udlever hele to sæsoner af "Joan the Vampire Slayer" gennem velvalgte nedslag med brandvarmt teenagedrama frem mod vore heltes endelige opgør med Alfaderen.

A carefully thought out story arch, where a massive overarching story gets packed into a manageable package. The participants experience two entire seasons of Joan the Vampire Slayer, with room for teenage drama, and out heroes final battle against the allfather.
Among Us

En sanselig og poetisk adaption af en smuk og særlig historie. Fortællingen har stærke vendepunkter, hvor der i roligt tempo sker grundlæggende livsforandringer for både mennesker og engle. Det er en fortælling, der opleves på krop og sjæl.

A sensual and poetic adaptation of a beautiful story, experienced on both body and soul. There are strong fictional turning points, where monumental changes for both the humans and angels play out at a calm pace.
No Thing to Fear

Dyrenes rejse fra sorgen mod noget nyt, hvor de lægger det gamle bag sig, er rørende og livsbekræftende. I den underliggende bittersødme vender de tilbage til livet - eller accepterer døden. Spillerne skaber selv fortællingen gennem scenesætning på den helt rigtige måde.

The animals journey from grief toward something new, where they put the old behind, is both touching and life affirming at the same time. In the underlying bittersweetness, they either return to life, or accept death. The participants create the story themselves through a tight story frame.
Sons of the North

Gennem en stærk underdog-fortælling opbygges et hold af individer, der til sidst står sammen og har udviklet sig selv og hinanden. Troperne fra sportsfilmsgenren understøttes af en fortællestruktur med klare konfliktbuer og stærke interviewscener.

Through a strong underdog-story, a team of individuals is brought together. In the end, they stick with each other and grow as human beings. The tropes from the sport movie genre are supported by a storytelling structure, with clear conflict arcs and strong interview scenes.
Gone

Fremstiller demens på en nærværende og indfølende måde, selv om vi aldrig møder Lise direkte i scenariet. Fortællingen strækker sig over et helt år, og det giver på smuk vis mulighed for udvikling i rollerne. Scenariet indeholder et katalog med hele 55 scener - og de er alle gode, og giver spillere og spilledere mulighed for at skabe deres egen fortælling om Lises familie.

Depicts dementia in a heartfelt and empathic way, even though we never meet Lise directly. That the story takes place over a year creates ample opportunity for character development. The scenario pressents an impressive catalogue of 55 scenes, they are all good, giving the participants the opportunity to create their own story of Lises family.
Bedste Scenarie
Gone

Væk er en hjertefølt historie, der er gennemført behandlet og fortalt. Et kompromisløst scenarie, der giver spillerne og spillederen frihed til at skabe deres egen medrivende rollespilsoplevelse. Spillerne bringes ind i en autentisk og genkendelig oplevelse af en families håndtering af den sorg, demensen påfører dem, der ikke er syge. Det er umuligt ikke at blive berørt.

Gone is a heartfelt story, that is well executed and told, and where it is impossible not to be touched. It is an uncompromising scenario, that gives the players the freedom to create their own engrossing play experience. The participants are brought into an authentic and real experience of a families attempts to deal with the sorrow dementia creates in those that aren't sick.
Aokigahara

Scenariet er helt igennem modbydeligt, og holder ikke sine slag tilbage. Afsøgningen af selvmordet som ultimativ løsning er ekstrem, og scenariet er bevidst om, hvad det gør. Med skarpe kulturskildringer af en ødelagt japansk familie mærkes selvmordsskovens ulykkelige dødsdrift.

The scenario is thoroughly disgusting, and doesn't pull any punches. The exploration of suicide as an ultimate solution is extreme, and the scenario's fully aware of what it is doing. With its edgy cultural depiction of a wrecked Japanese family, you strongly feel the suicide forests miserable death drive.
Joan the Vampire Slayer

Roller, struktur, scener, virkemidler – det hele spiller sammen, og scenariet sikrer deltagerne en sjov og vild popcornsoplevelse. Scenariet er en nostalgisk serie-blockbuster for både dem, der kender Buffy og dem, der ikke gør.

Roles, structure, scenes, and mechanics, all play together to create a fun and wild popcorn experience. The scenario is a nostalgic serialblockbuster, for those who know Buffy, and those who don't.
Hobbyhorse

Kæphestene er som koncept et fantastisk valg, og det er en smuk pendant til vores egen hobby. Både sporten og interaktionen med kæphestene udleves i praksis under scenariet og sikrer den totale oplevelse. Spillerne udfordres på det at holde ved sin interesse på trods af sociale normer, mens tonen i scenariet holdes til kærlig accept.

The hobbyhorses are a thoroughly good design choice, and a beautiful counterpart to our own hobby. The sport and the interaction with the hobby horses is acted out in play, and defines the complete experience. The participants are challenged to stick to their interests in spite of social norms, while the tone in the scenario is kept at loving acceptance.
Among Us

Alle scenariets elementer peger i samme retning og skaber en dyb, sanselig og medrivende oplevelse. Rollespillet opleves på en anderledes fysisk facon, hvor vi kun næsten rører ved hinanden, kigger hinanden i øjnene og sanser verden omkring os – sammen og alene. Scenariet er smukt orkestreret i alle sine valg til at give spillerne præcis den oplevelse, som forfatteren ønsker.

All the elements of the scenario point in the same direction and support each other. A deep, sensual, and rivetting experience. The roleplaying is experienced in a different, physical, manner, where we almost touch each other, look each other in the eyes, and sense the world around us. The scenario is well orchestrated, and through all its choices it creates exactly the experience that the author intended.
Juryens Specialpris
Flowers on Svanevej

Nomineres for at være et politisk rollespil gennem en knivskarp miljøskildring, hvor forfatteren ikke fortæller, hvad vi skal synes eller tænke, men lader spillerne opleve og danne deres egne holdninger. En kaotisk og punket druktur formår at behandle et betændt emne med en hel exceptionel respekt og forståelse.

Is nominated for being political roleplaying through a potent environmental portrayal, where the author never tells us what to think or feel, but lets the players experience, and make up their own opinions. Through a chaotic punk binge drinking trip it manages to deal with a controversial subject with an exceptional degree of respect and understanding.
No Thing to Fear

Nomineres for det uforudsigelige og overraskende twist med spillederrollen Eternal Egret, der måske forlader scenariet undervejs, så spillerne skal køre scenariet videre alene. Snydestorken slår til igen!

Is nominated for the unpredictable and surprising twist with the gamemaster role "Eternal Egret," that might leave the scenario along the way, such that the remaining participants have to finish the scenario on their own.
Redshift

Nomineres for at være et utroligt ambitiøst og gennemført simuleringsscenarie, hvor spillerne forvandles til astronauter. Der er konsekvenser ved alt - rumstøv skal fjernes, EVA dragter skal trykudlignes, og tiden går ubønhørligt tilbage på jorden. Dommerne har aldrig set noget lignende før.

Is nominated for being an incredible ambitious and well made simulation, where the participants are transformed into astronauts. Everything has consequences, space dust must be vacuumed, EVA suits have to be decompressed, and the time passes at a brutal rate back at earth. The judges have never seen anything quite like this.
Ten Thousand Light Years from Home

Nomineres for at skabe rumskibe med sjæl, der udleves i både fysisk og virtuelt rum og dermed nytænke rollekonceptet på en gennemført måde. Sci-fi bringes op på et fascinerende og episk plan, hvor rumkampe på grund af rollerne får en helt ny dimension.

Is nominated for creating spaceships with a soul, and thus rethinking roles in a well though out way. The Sci-fi is brought up at a fascinating and epic level, where space battles are given a whole new dimension because of the characters.
Bedste Brætspil
Witch Hunt

Witch Hunt er et asymmetrisk kortspil, hvor du i rollen som heks eller heksejæger skal nå at fuldføre henholdsvis et ritual eller en heksejagt før din modstander. I løbet af spillet har du mulighed for at påvirke byens borgere og sågar komme til at anklage de forkerte, hvilket kan lede til problematiske dødsfald, som hæver spillets sværhedsgrad.

Witch Hunt nomineres for at være et velbalanceret asymmetrisk kortspil. Fælles handlinger med overlappende spilmekanikker, kombineret med meget forskellige måder at spille kort på, giver et meget dynamisk og intenst spil, hvor sejren først afgøres i sidste sekund.
--
Witch Hunt is an asymmetric card game, where you as witch or hunter must complete either a ritual or a witch trial respectively before your opponent. You can levy the help of the citizens of the village during the game, but you might end up accusing the wrong person. The death of an innocent will increase the difficulty for the hunter.

Witch Hunt is nominated for being a well-balanced asymmetric card game. Common actions with overlapping game mechanics combined with very different ways of playing cards result in a dynamic and intense game. The outcome is not certain until the very last second.
50 Clues: The Ritual

50 Clues: Ritualet er kombinationen af et Escape Room og en kriminalroman kogt ned til at enkelt kortspil på kun 50 kort. Det er et samarbejdsspil om at afsløre mystiske mord på tid. Reglerne introduceres meget enkelt på spillets indledende kort, som også instruerer spillerne i hvilke nye kort der opbygger og afslører mysteriet. Spillerne kommer videre ved at løse
gåder, finde diskrete spor og kombinere de rigtige objekter på de forskellige kort – alt sammen styret af den tilhørende app, som også holder styr på holdets tid.

50 Clues: Ritualet nomineres for at være et helstøbt og udfordrende spil, der pirrer folks nysgerrighed og formår at få glæden ved Escape Room ned i en overraskende lille pakke.
--
50 Clues: The Ritual is a combination of an Escape Room game and a crime novel in only 50 cards. 50 Clues is a cooperative game where you try to solve mysterious murders before the clock runs out. The rules are introduced on the first 5 cards, that also instruct the players in how new cards are introduced to the game. The players progress through the game by solving riddles, finding hidden clues and combining the right objects on the different cards. Everything is controlled by an app, that also keep track of the teams playing time.

50 Clues: The Ritual is nominated for being a well-made and challenging game, that tickles the curiosity of the players. It also succeeds in jamming the joy of an Escape Room into a surprisingly small package.
Dungeon Contractors

En Dungeon Lord er svær at stille tilfreds og sætter derfor altid sine byggeplaner i udbud. Du forsøger at vinde udbuddet ved at grave huler, bygge rum og tiltrække monstre alt imens der konstant er fare for at dine konkurrenter tiltrækker trælse eventyrere som ødelægger alt dit
møjsommelige arbejde og stjæle kontrakten for næsen af dig. Spillets grundmekanik er en elegant action selection , hvor den aktive spiller får den bedste mulighed og de andre spillere får lov at udføre en tilsvarende svagere handling.

Dungeon Contractors nomineres for sin veludførte spilmekanik, der minimere ventetid og det solide tema som portrætterer den risikable cutthroat-verden som en fangekælder-entreprenør befinder sig i.
--
It is difficult to please a Dungeon Lord. The solution for this is to outsource the building of the dungeon to the highest bidder. You try to complete most contracts by digging caves, building rooms and summoning monsters, while under the constant threat of destructive parties of annoying heroes called to the dungeon by your competitors. The game is based around an action selection mechanic, where the active player gets the best option and the other players get an equal, but weaker, action.

Dungeon Contractors is nominated for its well designed game mechanics lowering down time and the solid theme, that portrays the risky cutthroat world of the dungeon contractor.
Galskab

Galskab er et historisk læringsspil om psykiatriens morbide historie fra dens fødsel omkring 1750 og ca. hundrede år frem. Spillerne skal sammen styre en galeanstalt og holde økonomi og omdømme under kontrol og undgå for mange dødsfald. Man opfinder jævnligt nye behandlingsmetoder, såsom bad med levende ål, arsenik og pisk med brændenælder, men med tiden kan behandlingsmetoder også falde i unåde og så må man sadle om.

Galskab nomineres for at sætte spilleren i nogle svære dilemmaer og for at være et spændende læringsspil som formidler historisk stof på en elegant og engagerende måde gennem både tekst og spilmekanik. Det er underholdende, lærerigt og hurtigt at komme i gang med.
--
Galskab (Eng. ​Madness) is a historical educational game about the morbid history of psychiatry from its birth in 1750 and a hundred years forward. The players are together managing a lunatic asylum and trying to keep both economy and reputation under control whilst avoiding unneccessary deaths. You frequently invent new treatment methods, such as bath with live eel, ​arsenic, and ​whipping by stinging nettle. Later in time some methods might be considered distasteful and you have to reorganise to avoid a bad reputation.

Galskab is nominated for putting the players in difficult dilemmas as well as communicating its historical material in an elegant and engaging fashion through both text and game mechanics. It is entertaining, educational and easy to play.
Knight Tales

En flok riddere forsvarer en by mod monstre i klassisk fantasy-stil. Om dagen skal de købe nyt udstyr, gå i kirke og pleje deres sår. Men når natten kommer, kæmper vores helte mod monstrene til de alle er nedlagt eller ridderne er gået i gulvet af træthed. Slipper monstrene igennem og overrender byen, er hele gruppen tættere på at tabe. Hvis ridderne derimod klarer sig gennem fire dages sårslikkeri og indkøb samt fire nætters hård kamp, så løber den
dygtigste helt med kongens gunst og sejren over de andre spillere.

Knight Tales nomineres for god brug af kendte spilmekanikker. Spillet er lige til at gå til, og det lækre spilflow gør det til en fornøjelse at spille igen og igen.
--
A group of knights defend a town against monsters in a classic fantasy setting. During the day they can buy equipment, go to church and tend their wounds. But when night falls, our heroes fight against monsters until they are all defeated or the heroes are exhausted. If the monsters get through however, they'll raid the town and everybody is closer to losing. If the knights make it through four days of wound licking and shopping and the accompanying four nights of intense fighting, the most valiant warrior is rewarded with the favor of the king and wins the game.

Knight Tales is nominated for its excellent use of well-known game mechanics. The game is very accessible and the smooth flow makes it a pleasure to play again and again.
Bedste Innovation
Antasia

I Antasia er alle spillerne små myrer, der skal ud og samle dugdråber hjem til kolonien og desuden undgå at blive bidt af de væmmelige biller, som er ude efter myrerne. Dette gøres ved at spille kort i bedste børnevenlige deck building-stil og ved at bevæge sig rundt på en 3D-bane sat op af klodser. Vent, en 3D-bane siger I? Hvordan kan det lade sig gøre? Alle komponenterne er magnetiske, og man kan derfor med sin lille myre også kravle på
undersiden af klodserne, hvilket giver spillet et rumligt twist.

Antasia nomineres for sin brug af magnetiske insekter på en tredimensionel spilleplade, og for at invitere børn til at udvikle deres rumlige sans på en kreativ og morsom måde.
--
In Antasia you play little ants who venture out into the world in order to collect dew droplets to bring home to the colony. At the same time you must avoid getting bitten by beetles. This is done with an easy-to-learn deck building mechanic and by moving around on a three dimensional game board made out of blocks. Wait, a three dimensional game board you say? How is that possible? All the components are magnetic and you can therefore move your little ant around on the walls of the game board or even up-side down, which also gives the game a spatial twist.

Antasia is nominated for its use of magnetic insects on a three dimensional game board and for inviting children to develop their spatial perception in a creative and fun way.
Galskab

Galskab er et historisk læringsspil om psykiatriens morbide historie fra dens fødsel omkring 1750 og ca. hundrede år frem. Spillerne skal sammen styre en galeanstalt og holde økonomi og omdømme under kontrol og undgå for mange dødsfald. Man opfinder jævnligt nye behandlingsmetoder, såsom bad med levende ål, arsenik og pisk med brændenælder, men med tiden kan behandlingsmetoder også falde i unåde og så må man sadle om.

Galskab nomineres for sin sømfrie sammensmeltning af brætspilsmekanikker, historie og medrivende narrativ. Spillet sætter en ny standard for hvad et læringsspil kan være.
--
Galskab (Eng. ​Madness) is a historical educational game about the morbid history of psychiatry from its birth in 1750 and a hundred years forward. The players are together managing a lunatic asylum and trying to keep both economy and reputation under control whilst avoiding unneccessary deaths. You frequently invent new treatment methods, such as bath with live eel, ​arsenic, and ​whipping by stinging nettle. Later in time some methods might be considered distasteful and you have to reorganise to avoid a bad reputation.

Galskab is nominated for its seamless fusion of board game mechanics, history and engaging narrative. The game raises the bar for what an educational game can be.
Move It!

Move It! En dance battle som brætspil. To hold af dansere har sat hinanden i stævne på dansegulvet. Med dansetrin som Headbanger, Macarena og Guitar Leg skal modstandernes hold fejes af banen eller ydmyges. Spillet kan spilles som brætspil eller man kan kridte danseskoene og tage udfordringen op live!

Move It! nomineres fordi det kombinerer mulighederne for at spille spillet som almindeligt brætspil eller som fysisk partyspil, hvor 12 personer udspiller deres karakterers dansetrin på underholdende og seværdig vis.
--
Move It! A dance battle board game. Two teams of dancers challenge each other on the dance floor. With dance moves like ​The Headbanger
​ , ​Macarena
​ and ​Guitar Leg,
​ your opponents team must be beaten or humiliated. The game can be played as a board game, or you can ready your dance shoes and pick up the challenge as live action.

Move It! is nominated for combining the possibilities of playing the game as an ordinary board game, or as a physical party game where 12 participants mimic their dance moves in fun and entertaining ways.
Parts Per Million

Parts Per Million er et turbaseret resource management spil hvor spilleren opbygger deres nation af fabrikker, vindmøller, forskningscentre og storbyer. Undervejs i spillet udfordres spillerne af overbefolkning, stigende temperaturer og luftforurening. Politiske valg og anarkisme truer nationernes udvikling, og der er ikke plads til alle.

Parts Per Million nomineres for at være et ambitiøst projekt, der på sin komplekse måde håndterer udviklingen på brættet samt point scoringen, samtidigt med at spillerne både konkurrerer og arbejder sammen på kryds og tværs af hinanden. Effekten af den accelererende globale opvarmning illustreres eklatant gennem spillets mekanikker og giver en klar forståelse for den brændende platform.
--
Parts Per Million is a turn-based resource management game, where the player builds a nation with factories, wind turbines, research centers and cities. The players are constantly battling overpopulation, increasing temperatures and air pollution. Political agendas and anarchy threaten the development of your nation, and not everyone will make it.

Parts Per Million is nominated for being an ambitious project, that in a complex way manages development on the board as well as point scoring, all while the players simultaneously compete and cooperate in different ways. The effect of accelerating global warming is neatly illustrated through the game mechanics and results in a clear understanding of the burning platform.
Rising Sands

I Rising Sands skal en gruppe eventyrere kæmpe sig gennem horder af orker, gobliner og trolde i en grotte og nå at samle deres skatte. Spillet er en hæsblæsende jagt på tid, hvor spillerne udfører alle deres handlinger via timeglas, som de indbyrdes skal koordinere. Med forskellige karaktertyper handler det om at udnytte holdets styrker bedst muligt. Mellem hver bane kan spillerne bruge de opsamlede skatte til at købe bedre udstyr.

Rising Sands nomineres for at presse og intensivere deltagernes beslutningstagen, samt udfordre spillernes samarbejdsevner. Rising Sands er en nyfortolkning af klassisk dungeon crawl og bringer bestemt noget frisk blod til genren.
--
In Rising Sands a group of adventurers fight their way through dungeons filled with orcs, goblins and trolls trying to collect their treasures. The game is a merciless time chase where the players rush to turn hourglasses and perform actions for the best of the party. With different character classes the game is all about utilising strengths and weaknesses of the individual party members. Between each level the players pick up treasures and improve their equipment.

Rising Sands is nominated for intensifying and pressuring decision making at the same time as challenging the team work. Rising Sands is a new interpretation of classic dungeon crawl and brings new blood to the genre.
Den Gyldne Svupper
Kenneth Brylov

Opvask, rengjort service, m.m.
Sebastian Bosted

Kaffekroen
Det Gyldne Æg
The A-List

"A-sider" var scenariets oprindelige titel i scenarieskrivningskonkurrencen.
Deltagernes Pris
Organizers
Links
Send corrections for this page