The Teaparty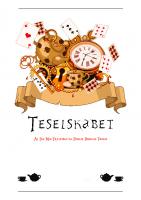 (AKA: Teselskabet)
Genre: Drama, Fantasy, Intrige, Novellescenarie
Participants: 1 GM, 5 players
By
Download
Description
At the teaparty we are five girlfriends, meeting to play cards. Earlier we were six, Alice just shoved the group. She said something like; we should not decide who she is, whatever that means. We may be a little mean to each other, but sometimes, that's how girlfriends behave. We must be able to tell the truth, otherwise we are not there for each other.

But maybe she is right? Do we live in the truth or have we lived in a lie for so long that it has become our reality?

You are not to decide who you are! Quote: Alice

The teaparty is about testing ones power to define others. No one control how they are seen, although everybody wants to decide how to be identified, for themselves. Through mockery and gossip, players build each others identities and they'll all feel the terror from when the group sets the tone for who you are.

When the fear of loss of face becomes too heavy, there is an escape, but not out of the group. In a dreamlike logic, a player can force the party down the rabbit hole - and into wonderland. The party continues, but on more absurd and obscene visions.

Through a workshop, each character of the other players is defined so that everyone gets to know and feel ownership of the characters to be played.

Through meta techniques and physical elements there will be kept track of mockery and loss of image.
Til teselskabet er vi fem veninder der mødes for at spille kort. Før var vi seks, men Alice har lige skodet gruppen. Hun sagde noget om at vi ikke skulle bestemme over hvem hun er, hvad det så end skal betyde. Vi kan godt være lidt lede ved hinanden, men sådan er veninder jo nogle gange. Vi skal kunne sige sandheden, ellers er vi her jo ikke for hinanden.

Men måske har hun ret? Lever vi i sandhed eller har vi levet i en løgn så længe, at den er blevet til vores virkelighed?

"Du bestemmer ikke hvem du selv er!" Citat: Alice

Teselskabet handler om at afprøve sin definitionsmagt. Ingen har kontrol over hvem de er, men alle higer efter at identificere sig selv. Gennem hån og sladder opbygger spillerne hinandens identiteter og de skal alle mærke desperationen over, at det er gruppen der sætter tonen for hvem man selv er.

Når frygten for ansigtstab bliver for stor, er der en flugtvej, men ikke ud af gruppen. På rømmelogisk vis, kan en spiller tvinge selskabet "ned gennem kaninhullet" og ind i eventyrland, for egentligt at fortsætte teselskabet, men på mere absurd og obskur vis.

Gennem en workshop, defineres hver karakter af de øvrige spillere, så alle får kendskab til og ejerskab over de figurer, som skal spilles.

Gennem metateknikker og fysiske elementer fordeles hån, ris og ros.
Played at
Trivia
Send corrections for this page