Kobanî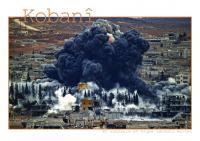 Genre: Drama
Participants: 1 GM, 4 players
By
Download
Description
In the city Kobanî in northern Syria four young women join the Kurdish militia YPJ. The enemy will attack the area and the women wish to fight to defend it.

Even though they are different, war has joined them in a united front. Dreams of families, education and freedom to choose will have to be put aside to defend Kobanî. Not only do they now risk to loose comrades. In pushing the enemy towards the edge of town they risk sacrificing their own self-image as they watch their hometown and childhood memories turn to dust around them.

Kobanî is a classic war drama about people in war and the humanity you risk loosing in the fight for freedom.
I byen Kobanî i det nordlige Syrien melder fire unge kvinder sig til den kurdiske milits YPJ. Fjenden vil angribe området og kvinderne ønsker at kæmpe for at forsvare det.

Selvom de er forskellige, har krigen samlet dem i en fælles front. Drømme om familie, uddannelse og frihed til at vælge må vige for kampen om Kobanî.

Men nu risikerer de at miste mere end deres kammerater. I fremrykningen mod fjenden sætter de deres selvbillede på spil, når de står ansigt til ansigt med hjembyen og barndomsminderne, der styrter i grus omkring dem.

Kobanî er et klassisk krigsdrama om mennesket i krig og den menneskelighed man risikerer at tabe i kampen om frihed.
Played at
Send corrections for this page