Star-Crossed Love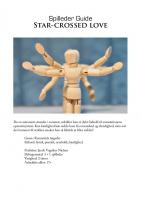 (AKA: Et håb om kærlighed)
Genre: Drama, Novellescenarie, Sci-Fi
Participants: 1 GM, 3 players
By
Download
Description
An astronaut finds himself stranded in space and develops a deep connection to the space stations operating system. Only love can save him from lonesomeness and misery – but when the curtain calls – will he want to be saved?

The universe is vast and full of possibility – yet also empty and lonely. Star-crossed Love is on the surface a sci-fi drama. But behind the space-lingo is a deeper story about hope, angst and love. All leading you to points of interest in a relationship that can be hard to discuss directly.

During the tale you will embark on a significant journey into the astronauts mind. He fights with a failing space station that is entering an unknown trajectory.
You take on the parts of Skylab, The Astronaut, Loneliness and Love – a woman on Earth.

If you liked "Gravity" or "Her" this is a tale for you. But even if you are unfamiliar with these you will be able to relate to the themes of the story.
Da en astronaut strander i rummet, udvikler han et dybt forhold til rumstationens operativsystem. Kun kærlighed kan redde ham fra ensomhed og elendighed, men når det kommer til stykket, ønsker han så faktisk at blive reddet?

Universet er så stort og fuld af muligheder, men samtidigt så tomt og ensomt. Star-crossed love er på overfladen et sci-fi drama, men bag rummetaforerne gemmer der sig en dybere historie om håb, angst og og kærlighed, der prikker til emner i et forhold der kan være svære at tale om.

I scenariet tager I på en dyb rejse ind i en astronautens sind, der slås med tilværelsen på en rumstation der så småt er ved at falde fra hinanden, imens den bliver slynget ud i en bane som ingen kender. Her tager I rollerne som rumstationen Skylab, Astronauten, Ensomheden og kærligheden på jorden i form af en Kvinde.

Hvis du er til film som 'Gravity' eller 'Her', så er det her et scenarie for dig, men hvis du slet ikke kender de her film er det også helt fint.
Played at
Trivia
Send corrections for this page