The A-List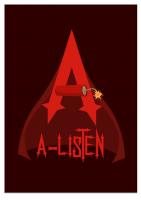 (AKA: A-listen, A-sider, A-Lister)
Participants: 1 GM, 5 players
By
Download
Description
Comic-book villains struggle to become true supervillains and not just a comedic footnote in history – meanwhile, a group of comic book writers throw in plot twist after plot twist, sending the villains' arcs in an unexpected direction.

Keywords: Comedy – Meta – Comic books

The supervillains that everyone laughs at because of their ridiculous superpowers have had enough with being a joke in both the hero and villain circles in Valor City. They will work their way up the supervillain hierarchy by committing bigger and crazier crimes, and thereby show everyone that they can become infamous supervillains feared by everyone in town.

At least that is the story, as written by the writers at Amazing Investigator Comics. However, because of their creative differences, they have a hard time agreeing on how the story should develop. The writers must reach a compromise so they can tell the villains' story – but of course they will each try to maintain as much control of the story as possible.

The game has two parallel narratives: writers and supervillains. As the writers, players discuss how the supervillains' scenes should play out. Players also take control of different villains, with powers created from pictograms, whom they play in the planned scenes.

About the author:
The A-List is Martin Sinding's debut as an author at Fastaval. He is a young larper and high school student from Copenhagen. In 2018, Martin won the Lady for scenario writing with the A-List, making him one of the youngest prize winners in Fastaval history.
Tegneserieskurke tager kampen op for at være ægte superskurke og ikke blot et komisk islæt i historien – samtidig med at en gruppe tegneserieforfattere drejer skurkenes udvikling i forskellig retning.

Stikord: Komedie – Meta – Tegneserier

De superskurke som alle andre gør grin med på grund af deres fjollede superkræfter har fået nok at være til grin i både helte- og skurkemiljøet i Valor City. De vil kæmpe sig op i superskurke-hierarkiet ved at begå større og vildere forbrydelser og derved vise alle, at også de kan være berygtede superskurke, som er værd at frygte.

Det er ihvertfald den historie som forfatterne på Amazing Investigator Comics er ved at skrive, men på grund af deres kreative forskelligheder har de svært ved at blive enige. Forfatterne er nødt til at nå et kompromis for at kunne fortælle skurkenes historien, men selvfølgelig vil de alle prøve at fastholde mest kontrol over værket.

Spillet har to parallelle fortællinger: forfattere og superskurke. Forfatterne diskuterer, hvordan skurkenes scener skal forløbe og har gennem spillet kontrol med forskellige skurke med superkræfter lavet af spillerne fra pictogramkort, som de spiller i de planlagte scener.

Om Forfatteren:
A-Listen er Martin Sindings forfatterdebut på fastaval. Han er en ung rollespiller og gymnasieelev fra København, Martin vandt i 2018 Årets lady for scenarieskrivnings med A-Listen, hvilket gør ham til en af de yngste prisvindere på Fastaval.
Played at
Awards
Winner, Det Gyldne Æg

"A-sider" var scenariets oprindelige titel i scenarieskrivningskonkurrencen.
Trivia
Oprindelig skrevet til scenarieskrivningskonkurrencen på Fastaval 2018 under titlen "A-sider"
Opsat som spiltest på Con2
Send corrections for this page