BuzzKill & BlueEyes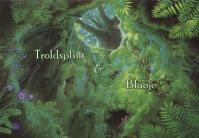 (AKA: Troldsplint & Blåøje)
Genre: Drama, Fantasy
Participants: 1 GM, 5 players
By
Download
Description
Aomame sneaks back into bed, after eavesdropping on mum and dad. Granny is ill, and they will have to live in her house while she is in the hospital, they said. BuzzKill sighs heavily, ?This is bad. Granny?s house is far away from all of our friends, and she is probably really sick. This is going to be the worst summer ever! ? BlueEyes laughs, ?Don?t listen to that old pessimist. Granny probably just has a bad cold, and while we are at her house we can go explore the neighborhood. It is going to be the best summer ever! ?

In the scenario, you will play Aomame, a 10-year- old girl, her parents, Kanta and Satsuki, and her two magical friends, BuzzKill and BlueEyes. The scenes will cut between Aomame and her adventures, Kanta and Satsuki?s real life worries and dilemmas, and common family scenes where two worlds meet. During the game, Buzzkill and BlueEyes will influence the family with their very different perspective on life, and the story will be shaped by which of them Aomame chooses to listen to along the way.

The mood and setting is inspired by movies like ?My Neighbor Totoro?, but now we also get the parents? story, so we move between the fantasy life of a child and the real life of the grown-ups.
Aomame sniger sig ind i seng igen, efter at have lyttet til mor og far i smug. Bedste er syg, og de skal bo i hendes hus, mens hun er indlagt, sagde de. Troldsplint ryster på hovedet, "Det lyder ikke godt. Det er langt væk fra vennerne. Og stakkels Bedste er sikker rigtig alvorlig syg. Det bliver den værste sommer nogensinde!" Blåøje griner, "Du skal ikke lytte til den gamle sortseer. Bedste er sikkert bare forkølet, og det bliver vildt spændende at gå på opdagelse derude. Det bliver den bedste sommer nogensinde!"

I scenariet spiller man den 10-årige Aomame, hendes forældre, Kanta og Satsuki, og de to magiske venner, Troldsplint og Blåøje. Vi skifter mellem Aomames eventyrlige opdagelsesrejser, forældrenes dilemmaer om hvordan de skal håndtere Bedstes sygdom, og fælles familiescener, hvor de to ting flettes sammen. Undervejs påvirker Troldsplint og Blåøje på forskellig vis alle i familien med deres meget forskellige verdenssyn, og familiens fortælling formes af hvem Aomame vælger at lytte til.

Stemningen og setting er stærkt inspireret af film som "Min nabo Totoro", men i scenariet får man også forældrenes historie med, så vi veksler mellem barnets fantasiverden og forældrenes hverdagsdrama.
Played at
Send corrections for this page