Unaccompanied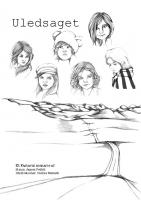 (AKA: Uledsaget)
RPG system: LARP
Genre: Drama
Participants: 1 GM, 4-6 players
By
Download
Description
I am Flight, and this is my journey. I force you away all that you have known, out in the endless world. No one survives my journey unchanged. I am Friendship, and I am your shield. I keep you going, even when the trials of fleeing becomes unbearable. Take my hand, I will get you there in the end.

When Civil War reaches Homestead, a small group of children must flee from all that they have known, and journey to The Foreign Land, that the adults say is safe and has no war. But between Homestead and The Foreign Land waits a long journey with many trials along the way. The journey will change the children forever, and only friendship will get them through.

As a player you will experience the children's journey yourself by walking a route around Østerskoven, the forest behind Fastaval at night. While you walk, you will larp as your characters and respond to and discuss the trials they face. During the journey the GM will stop and play scenes with you.
Jeg er flugten og dette er min rejse. Jeg får dig væk, fra alt du har kendt, og ud i den store verden. Ingen overlever min rejse uforandret.

Jeg er venskabet, og jeg er dit skjold. Når flugtens prøvelser bliver for tunge, så er det mig, der får dig til at fortsætte. Tag min hånd, jeg skal nok få dig frem.

Da Borgerkrigen rammer Hjemstavnen, må en lille gruppe børn flygte fra det eneste hjem de har kendt og rejse mod Det Fremmede Land. Der hvor de voksne siger, at der er sikkert og ingen krig. Men mellem Hjemstavnen og Det Fremmede Land venter en lang rejse med mange prøvelser, der vil ændre børnene for altid. Kun via sammenhold og venskab vil de komme frem.

Du kommer til at opleve børnenes rejse, ved at vandre en rute rundt i Østerskoven bag ved Fastaval om natten. Vandringen spilles som liverollespil, hvor I, som børnene, reagerer på og snakker om de prøvelser, de kommer igennem. Undervejs vil spillederen stoppe og spille ordrollespilsscener med jer. Scenerne vil på forskellig vis udfordre den lille gruppe børn. Settingen er ikke et virkeligt land eller krig, men sat i et mørkt og symbolsk eventyrunivers, set med et barns øjne.

Bemærk!
● Scenariet vil blive afviklet uanset vejret, så klæd dig på efter forholdene.
● Scenariet vil foregå i en skov om natten og ruten er på cirka fire kilometer.
● Du skal være forberedt på, at gå på ujævnt terræn, i varierende tempo.
● Der er ikke fysisk kamp eller jumpscares, det handler om vandringen og rejsen.
Played at
Send corrections for this page