Wilting of the Lotus Empire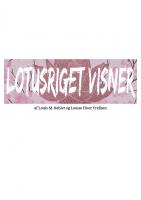 (AKA: Lotusriget visner, Fønikssværdets rige)
Genre: Action, Drama
Participants: 1 GM, 5 players
By
Download
Description
Change is in the air at the palace. A frayed banner sways in the wind. A glance is mirrored in the blade of a sword. The silence is underlined by the drumbeats of the heart. Once they were friends. Once they were only themselves, now they are symbols. Now she is qi and he is democracy. Tomorrow only one of them will be alive.

Wilting of the Lotus Empire is a tragedy about five people, all split between their feelings, ambitions, and duty. At the same time it is a story that explores the merit of democracy in a world where part of the population has supernatural abilities. Wilting of the Lotus Empire is suited for players that want to be able to influence the story they are participating in. There is room to shape the tale according to which plot points the group finds interesting, while a number of mechanics keep the plot moving. The scenario consists mainly of character-scenes that the players choose themselves; here the focus is on developing the characters, their relations, and secrets.

The scenario is a character-driven drama set in a fantasy Asia of snow-covered mountaintops, bamboo forests and blossoming cherry trees. The experience is filled with fantastical duels in word, spirit and blade.

The duels are played as story scenes controlled by a card system, which, like the rest of the scenario, develops the characters and helps guide the players towards an interesting story. Wilting of the Lotus Empire is about honour, power, and people finding out that lofty ideals can very easily get in the way of happiness.

Is true honour found in shouldering responsibility – or in daring to let it go?
Ved paladset kan forandringen mærkes i luften. Et flosset banner blafrer i vinden. Et blik spejler sig i den dragne klinge. Tavsheden understreges af hjertets trommeslag. En gang var de venner. Den gang de kun var dem selv. I dag er de symboler. I dag er hun qien og han er demokratiet. I morgen er kun en af dem tilbage. Lotusriget visner er en tragedie om fem mennesker, der alle er splittet imellem deres ønsker, følelser og pligt. Det er samtidig en fortælling, som udforsker demokratiets berettigelse i en verden, hvor en del af befolkningen besidder overmenneskelige evner.

Lotusriget visner er for spillere, der har lyst til at have medbestemmelse. Der er plads til frit at forme fortællingen efter hvilke plottråde der fænger, mens en række mekanikker holder plottet i gang. Scenariet består primært af spillersatte karakterspilsscener, hvor fokus er på karakterernes udvikling, indbyrdes forhold og hemmeligheder.

Scenariet er et karakterdrama sat i et eventyr-Asien bestående af snedækkede bjergtoppe, bambuslunde og kirsebærtræer i blomst. Oplevelsen er fyldt med maleriske dueller både på ord, ånd og klinger.

Duellerne udspilles som fortællescener styret af et kortsystem, der ligesom resten af scenariet udvikler karaktererne og hjælper spillerne i retning af den mest interessante fortælling. Det handler om ære, magt og om mennesker der finder ud af, at ophøjede idealer let kan komme til at stå i vejen for lykken.

Findes den største ære i at påtage sig ansvaret – eller at turde lægge det fra sig?
Played at
Awards
Nominated, Bedste Roller

Rollerne ER scenariet, og rummer et hav af muligheder, intriger, konflikter og handlingstråde, som spillerne kan gå på opdagelse i. Rollerne manifesterer scenariets tema og fremstår levende og involverende.

The roles ARE the scenario, and introduce a plethora of oportunities for conflicts, intrigue, and storylines that the participants can explore. The themes of the scenario are strongly represented in the characters, that are presented in a lively and involving way.
Nominated, Deltagernes Pris (Andenplads)
Send corrections for this page