Aarhus Brætspilsfestival '22 (2022)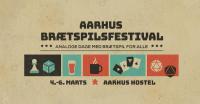 Location: Aarhus Hostel, Hesselager, Denmark
Date: 4. - 6. March 2022
About the convention:
Vi glæder os til at byde brætspillere i alle størrelser og gørelser velkommen til Aarhus Brætspilsfestival '22 d. 4.-6. marts 2022.
Vi åbner endnu engang dørene til en af Danmarks allerstørste brætspilsweekender - nu på en ny, hyggelig lokation - og glæder os til at vise jer spillækkerier for begyndere såvel som øvede.
Her er plads til både børn, voksne, familier, hardcore nørder og nysgerrige. Prøv nye og spændende brætspil, få kyndig vejledning, deltag i turneringer, snus til figurspil, spis god mad og gå på opdagelse i de spændende salgsboder.
Vi glæder os til at se jer!
We haven't had access to a program for this convention. The list is simply based on external references, memory, rumours and so on and the list might not be completed.
If you have a correction or are in access of a program then please send us an update.
Organizers
Links
Send corrections for this page