Dice Village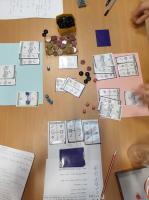 Participants: 2 players
By
Description
You are a mighty merchant lord, trying to develop the markets in your three villages.

Each turn the caravans comes with exotic goods (represented by dice).
These goods can either be sold in your markets in your own villages for a small profit, at the market in the neighbours villages for a bigger profit (but also earning something for the neighrbour) or at the open bazar for a tiny future favour.
Selling your goods at a market blocks the market for the rest of the turn.
Once you have earned enough cash you can bribe other merchants to join your market, and thereby increase your village.

The merchant lord who manages to increase his villages to 12 markets first wins the game.

Played at
Trivia
Forventes udgivet af Board Game Circus i oktober 2021.
Send corrections for this page