Dice Village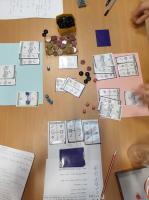 Participants: 2-4 players
By
Description
You are a mighty merchant lord, trying to develop the markets in your three villages.

Each turn the caravans comes with exotic goods (represented by dice).
These goods can either be sold in your markets in your own villages for a small profit, at the market in the neighbours villages for a bigger profit (but also earning something for the neighrbour) or at the open bazar for a tiny future favour.
Selling your goods at a market blocks the market for the rest of the turn.
Once you have earned enough cash you can bribe other merchants to join your market, and thereby increase your village.

The merchant lord who manages to increase his villages to 12 markets first wins the game.
Vær den første til at udbygge din små landsbyer til store handelsbyer.

Dice Village er et nyt spil, som forhåbentligt kommer på markedet i 2021.

I Dice Village starter hver spiller med tre små landsbyer, med et par købmænd. Hver tur kommer karavanerne hjem med varer ( i form at terninger) fra fjerne egne, som man enten kan sælge i sin egen landsby for en lille profit, eller i modstandernes landsbyer for en lidt større profit, men så tjener modstanderne også lidt, eller sælge til vennerne som hvorved man kan opnår tjenester, som man kan bruge til senere at manipulere terningerne med.

I takt med at man tjener penge, kan man udvide sine landsbyer, og derved forøge profitten. I den runde hvor en spiller når 9 kort, slutter spillet og spillerne med flest kort på bordet vinder.

Der forklares regler, så alle kan være med. Et spil tager typisk omkring 30 minutter, så turneringer består af en indledende runde, hvor de fire bedste går til en finalerunde.
Played at
Trivia
Forventes udgivet af Board Game Circus i 2023.
Send corrections for this page