Malmö Protospiel 2022 (2022)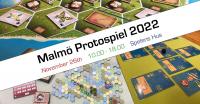 Location: Spelens hus, Malmö, Sweden
Date: November 26, 2022
About the convention:
Välkommen till Malmö Protospiel 2022!
Kom och prova på framtidens brädspel innan de når butikerna! Ta med dina vänner! Ta med din familj! Få nya vänner när du spelar brädspel! Vinn festliga priser för att du spelar brädspel! Men framförallt - ha kul!
Vad är ett Prototspiel?
Ett Protospiel är ett gratis evenemang där du kan spela brädspel som fortfarande är under utveckling. Ett flertal olika speldesigners kommer att vara där med sina senaste spel och de vill gärna höra vad just du tycker om dem! Alla är välkomna och all feedback kommer att vara värdefull för designers som vill förbättra sina spel. För att uppmuntra människor att pröva dessa spel, kommer speltestare få lotter för alla spel de provar, och i slutet av evenemanget kommer vinnare dras och priser delas ut!
Hur fungerar lotteriet?
Speldesigners delar ut lotter till sina speltestare och för varje 30 minuters spelande får de ena halvan av ett lott-par. De andra lotthalvorna samlas in och i slutet av evenemanget dras vinnarna. Priserna kommer i huvudsak bestå av brädspel men en och annan överraskning kanske dyker upp.
Om jag har en prototyp, kan jag ta med den?
Absolut! Men du måste anmäla senast 13 november. Designers ombeds att bidra med 300 kr för att täcka kostnaderna för lotteriet och evenemanget i allmänhet. I utbyte kommer du att tilldelas ett eget bord och få lotteribiljetter som du kan ge till dina speltestare för att uppmuntra dem att prova ditt spel.
För mer info om registrering, maila malmo.protospiel@gmail.com
**Arragemanget har gjorts möjligt med bidrag från Malmö stad***
Tack till Malmö brädspelsförening och Spelens hus
We haven't had access to a program for this convention. The list is simply based on external references, memory, rumours and so on and the list might not be completed.
If you have a correction or are in access of a program then please send us an update.
Organizers
Links
Send corrections for this page