Malmö Protospiel 2023 (2023)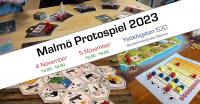 Location: Studiefrämjandet, Ystadsgatan 53D, Malmö, Sweden
Date: 4. - 5. November 2023
About the convention:
Älskar du brädspel? Vill du bara prova de senaste spelen före alla andra? Missa inte Malmö Protospiel 2023!
🎲 Varför ska du komma?
✔️ Testspela nya och spännande prototyper
✔️ Ge och få konstruktiv feedback från likasinnade
✔️ Nätverka med brädspelsdesigners och förläggare
✔️ Njut av en helg fylld med kreativitet och spelglädje
Gör dig redo för en oförglömlig helg av speltestning, designinspiration och mycket mer. Låt oss göra den här Protospiel-helgen i Malmö minnesvärd tillsammans!
We haven't had access to a program for this convention. The list is simply based on external references, memory, rumours and so on and the list might not be completed.
If you have a correction or are in access of a program then please send us an update.
Organizers
Links
Send corrections for this page