Knight Tales: Expansion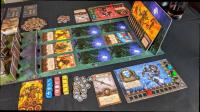 Participants: 2-4 players
By
Description
In Knight Tales, 2-4 players stand against hordes of monsters and must cooperatively or semi-cooperatively defend a remote village for three days and three nights (three rounds).
Knight Tales has a mix of genres; character-building, set-collection, a tower defense mechanism with a puzzly twist. A wide diversity of interacting monster effects, a clever system of spending fatigue, losing health and unleashing wrath as well as a doom mechanism that empowers the bosses triggering their own deck of tactic cards unfolds into a challenging puzzle that you will need to solve in order to be victorious.
Expansion introduces new elements to the base game.
Played at
Send corrections for this page