GothCon XLV (2022)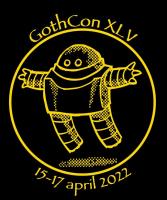 Location: Göteborg, Sweden
Date: 15. - 17. April 2022
About the convention:
Sveriges äldsta spelkonvent arrangeras fysiskt igen!
Efter att ha fått ställa in 2020 körde vi 2021 ett digitalt konvent, men 2022 är vi tillbaks på Hvitfeldtska gymnasiet för en påsk fylld med spel, vänner, spel, kaffe/te, spel och ytterligare spel!
Arrangörsanmälan är nu öppen, så varmt välkommen in med ditt arrangemang!
Mer info för besökare kommer kring årsskiftet. Kan du inte vänta? Joina vår Discord för att hänga på GothCon året om! http://discord.gothcon.se
We haven't had access to a program for this convention. The list is simply based on external references, memory, rumours and so on and the list might not be completed.
If you have a correction or are in access of a program then please send us an update.
Organizers
Send corrections for this page