Fabulous!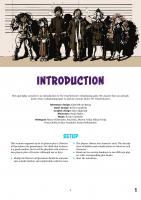 RPG system: The Troubleshooters
Participants: 1 GM, 6 players
By
Download
Description
Fabulous! är ett svängigt äventyr till The Troubleshooters där rollpersonerna tas med på ett äventyr i Londons musiksscen mitt under The Swinging Sixties. The Troubleshooters är ett rollspel inspirerat av franko-belgiska äventyrsserier och utlovar mycket skratt och action.
Played at
Links
Send corrections for this page