Collectors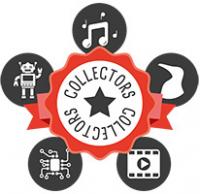 Participants: 2-4 players
By
Description
You are a collector trying to build the greatest geek collection ever seen! Join in a tense and short worker placement design of nostalgia and fandom!

In Collectors, you will take on the role as a collector that tries to buy a valuable and exotic collection of rare Metallica albums, flamethrower replicas from Aliens, and old Fastaval mugs and so on. In addition, you can learn skills such as how to earn extra money or buy energy drinks that give you more actions and the like. Furthermore, you can affect the value of the collections of all the players by hyping the various item categories of the game. Beware though, you have a rather limited number of actions and turns – make sure that you use them wisely.

The main resource of the game is the multipurpose cards. Depending on the position of the cards tucked in under the game board or under the player boards, the cards will represent different things. They can be items of a collection, acquired skills, or can be used to manipulate the geek value of your collection and that of the other players. The winning player is the one with the most valuable collection by the end of the game.
Som en vaske ægte samler, prøver du at skabe den største og bedste samling af nørd-genstande, nogensinde. Vær med i et intenst og kort worker placement spil, om nostalgi og fandom!

I Collectors påtager du dig rollen som en vaske ægte samler, som forsøger at købe værdifulde og eksotiske genstande, f.eks. et sjældent Metallica-album, flammekasteren fra Alien filmene, tidligere års Fastaval-krus, og så fremdeles. Desuden kan du tilegne dig evner i spillet, f.eks. evnen til at tjene flere penge, eller at købe flere energidrikke, der kan give dig flere handlinger. Du kan også påvirke værdien af de forskellige genstande for alle spillere i spillet, ved at øge hypen omkring bestemte kategorier. Men pas på med dine handlinger, da du ikke har så mange af dem – få dem til at batte noget!

Spillet gør brug af såkaldte "multi purpose cards" – altså kort, som har mange forskellige anvendelsesmuligheder. Afhængig af hvor de enkelte kort er skubbet ind under spillepladen, har de forskellige betydninger. De kan være genstande i en samling, tilegnede evner, eller de kan være brugt til at manipulere værdien af både din, og de andre spilleres genstande fra en bestemt kategori. Vinderen af spillet er den, som har den mest værdifulde samling, når spillet er slut.
Played at
Awards
Nominated, Bedste Brætspil
[+]
Send corrections for this page