LinCon (2023)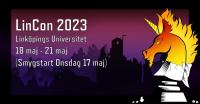 Location: Linköpings Universitet, Campus Valla, Linköping, Sweden
Date: 17. - 21. May 2023
About the convention:
LinCon är ett spelkonvent i Linköping. Deltagare från hela landet samlas på Linköpings Universitet (C-huset) för att spela spel, umgås och ha roligt tillsammans.
En del arrangemang är tävlingar och andra håller man på med enbart för att det är kul.
Det är ett gyllene tillfälle att prova nya spel, spela gamla klassiker och träffa nya och gamla vänner.
We haven't had access to a program for this convention. The list is simply based on external references, memory, rumours and so on and the list might not be completed.
If you have a correction or are in access of a program then please send us an update.
Organizers
Send corrections for this page