Alice is Missing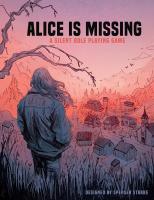 (AKA: Alice är försvunnen)
RPG system: Alice is Missing

By
Prolog (2021), Online, Sweden
ÅbyCon Online (2021), Online, Sweden
LinCon (2021), Katedralskolan, Linköping, Sweden
ÅbyCon (2022), Åbybergskyrkan, Vallentuna, Sweden
LinCon (2022), Linköpings Universitet, Campus Valla, Linköping, Sweden
FE Con (2022), Holstebro, Denmark
ÅbyCon (2023), Åbybergskyrkan, Vallentuna, Sweden
Description
Alice is Missing is a silent role-playing game about the disappearance of Alice Briarwood, a high school junior in the small town of Silent Falls.

The game is played live and without verbal communication. Players inhabit their character for the entirety of the 90-minute play session, and instead of speaking, send text messages back and forth to the other characters in a group chat, as well as individually, as though they aren't in the same place together.

Haunting beautiful, deeply personal, and highly innovative, Alice is Missing puts a strong focus on the emotional engagement between players, immersing them in a tense, dramatic mystery that unfolds organically through the text messages they send to one another.
Man spiller teenager der leder efter deres forsvundne veninde Alice.
Alice is Missing utspelar sig i High School-miljö och handlar om hur några vänner desperat försöker ta reda på vad som hänt Alice när hon plötsligt försvinner. Alice is Missing utspelar sig helt och hållet via text-meddelanden och är något tekniktungt i det att Miro kommer att användas för att skapa roller och förflytta handlingen framåt.

❤ Ett par timmars intensiv insikt i tonåringar känsloliv förmedlat i form av textmeddelanden
Played at
Trivia
Beskrivning till Alice är försvunnen på LinCon 2022: Alice är Försvunnen är ett "tyst" rollspel om Alice Törnskogs försvinnande. Alice är en sistaårselev i en gymnasieskola i Erikshamn, en stad på södra norrlandskusten. Under spelet använder spelarna sina telefoner för att skicka textmeddelanden till varandra för att ta reda på vad som hänt Alice. Spelet pågår under ca 3 timmar där den första timmen handlar om att utmejsla sina karaktärer och forma världen runt dem, samt deras relation till Alice och varandra. Sedan följer 90 minuter av textande för att avslöja Alice öde. Slutligen tar vi en stund att landa tillsammans. Detta är förstås en helt påhittad historia, men då det handlar om en försvunnen tonårsflicka så kan det frammana starka känslor. Det kan också komma upp ämnen som svåra hemförhållanden, sorg, död, våld (sexuellt och icke sexuellt), avundsjuka, svek. Om du är känslig för sådant får du gärna rådfråga oss innan du deltar.
Links
Send corrections for this page