UppCon '96 (1996)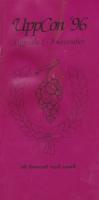 Location: Katedralskolan, Uppsala, Sweden 🗺️
Date: 1. - 3. November 1996
About the convention:
Spelföreningarna Atlantis och Gameboards and Broadswords stod för arrangemanget.

Var och en av föreningarna hade en ansvarig. Officiellt kallad "Spindel".
Download
Organizers
Referenced in the following articles
Trivia
Spelföreningen Ars Armandi plockade med sig huvudarrangemangen från sitt konvent SolCon I som gick av stapeln i Karlstad i februari. Dessa rollspel leddes som ett sidoarrangemang som man anmälde sig till på plats.
Send corrections for this page