Viking-Con 37 (2018)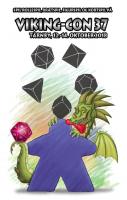 Location: Tårnby Gymnasium og Nordregårdsskolen, Kastrup, Denmark 🗺️
Date: 12. - 14. October 2018
Download
Awards:
Tiny game-designkonkurrence
Gnome-Elf-Troll

The game is fun and fast-paced, with simple rules and a witty narrative. The elegant rock-paper-scissors game engine is easy to learn, and new strategies keep occuring, as players continously try to counter each other.
I am happy to award this game the first price, I can highly recommend it.
Scenariekonkurrencen
Organizers
Links
Send corrections for this page