Dreieichcon World (2021)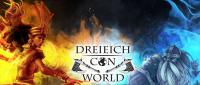 Location: Online, Germany
Date: 20. - 21. November 2021
About the convention:
Our online event "DreieichCon World" in November 2020 had two parallel live streams on Twitch (with 32 hours non-stop each), 150 guests from four different continents and over 5,300 unique viewers. In addition to our live streaming activities, 65 online game rounds as well as workshops and talks took place on our Discord server, which had over 800 registered members during the event.

From November 20th-21st 2021 our Convention DreieichCon World will take place again as a large, international online event. We are offering an extensive program on Twitch & Discord for friends of fantasy and sci-fi and for the pen&paper role-playing community, many online game rounds and loads of VIPs.
Organizers
Send corrections for this page