Last Days of Hadley's Hope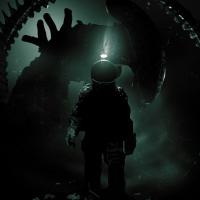 (AKA: Hope's Last Day)
RPG system: Alien
Participants: 1 GM, 4-5 players
Organized by
Free League Publishing (Stockholm Scenario Festival 2019)
By
Description
RPG Tabletop – Alien – Horror

Play the survivors of the lost colony of Hadley's Hope in Alien. Adapt, overcome and hopefully survive. The rules focus on stress, panic and survival, emulating the iconic scenes from the movies.

Last Days of Hadley's Hope is a demo game published before the official release of Alien – The Roleplaying Game in December 2019 by Free League Publishing. The rules uses their Year Zero system popularized in Free League's earlier games. There will be dices, panic, deaths and Xenomorphs.

I can't lie to you about your chances but you have my sympathies.
Hardleys Hope, Perle im äußeren Sektor, eine Terraformingkolonie von Weyland Yutani. Ihr arbeitet und lebt hier seit Jahren. Ihr kennt euch ihr mögt euch ihr hasst euch. Alles also normal. Bis John Jordan mit seiner Familie eine unheimliche Entdeckung gemacht hat.

Nun gilt es nur noch eines zu tun, irgendwie von diesem Mond zu verschwinden, oder die Chance am Schopfe zu packen und Reichtum und Ehre für Weyland zu sammeln. Wer weiß, es hängt alles nur an euch, und etwas dunklem was im Schatten auf euch lauert.
Upplev de sista timmarna på LV-426 och vad som skedde innan tystnaden….
Ett scenario som välkomnar dig in världen av ALIEN RPG och dess system. Både nya och erfarna spelare är välkomna att spela!
Färdiga karaktärer finns och delas ut/skickas ut till spelarna. Finns det frågor är det bara kontakta din Spelledare för ALIEN. Spelet kommer öppnas upp att gå med i ca 20-15 minuter innan starttid för eventuella funderingar, frågor och sista justeringar innan spelet börjar. Kommer finnas en discord för de som hellre samtalar i det.
Kom ihåg; rymden är en farlig plats och mycket kan skada, eller döda… för trots allt, i rymden kan ingen höra dig skrika…
Played at
Links
Send corrections for this page