A Bad Fable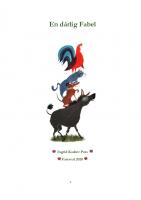 (AKA: En dårlig fabel, Fantastisk dum fabel)
Genre: Fantasy, Komedie, Novellescenarie
Participants: 1 GM, 3-5 players
By
Download
Description
The Rabbit isn't (always) lazy and the Fox has (almost) gotten over the grapes being sour. They join forces to find their own way to the King's party where they'll show everyone that they are more than what others think of them.
– Hold kæft hvor er jeg træt af at blive sat i bås! At alt, hvad jeg er, bare er kogt ned til en latterlig lille linje. En åndssvag pointe, om ikke at være som mig. Jamen mange tak for det! Så fordi jeg lagde mig under et træ og faldt i søvn under et løb imod en skildpadde, er jeg for evigt bare en arrogant idiot, der fik hvad han fortjente og tabte til det langsomste af alle dyrene. Og nu er vi ikke engang inviteret til kongens fest! Vi er mindst lige så meget værd som alle de andre!

En dårlig fabel er et komisk novellescenarie med noget på hjertet, hvor spillerne får mulighed for at planlægge, fortælle og partycrashe fabelfesten. Sammen med spillederen skaber spillerne en morale om den nat, hvor fabeldyrene prøvede at bryde med, hvad alle andre tænkte om dem.
Scenariets frie struktur og simple fortælleteknikker giver spillerne rig mulighed for action, spil mellem karaktererne og ikke mindst for at de skæve eksistenser sammen kan skabe sig en ny og bedre fabel med tilhørende morale.
Played at
Awards
Nominated, Deltagernes Pris (Andenplads)
Send corrections for this page