All for One (and Metal for Me)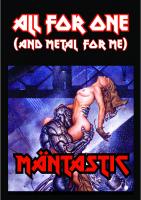 Genre: Komedie
Participants: 1 GM, 5 players
By
Download
Description
They were supposed to be The Next Big Thing. More albums sold than Maiden. A cooler live show than Priest. More parties, groupies and coke than even Crüe.

That never happened.

Instead Mantastic disappeared in the diluge of mullets, high pitched voices and leopard printed tights that made up the metal scene in the mid-eighties. They never recorded their second album and the band split up. The members have not seen each other since.

Until now. Their manager has secured a slot on the eighties nostalgia show Shout at the Eighties where all the great metal bands from that era are playing in Los Angeles. This is their last chance for the big break. Last chance to become the metal gods they know is their destiny.

All for One (and Metal for Me) is a road movie about the bands journey towards L.A. and the concert. On the way they will be confronted with a reality where they are less metal gods and more middles aged guys with a receding hair line and a beer belly that does not fit into the tight leather pants of their past. They will fight for their big break. Both against a world that thinks the eighties are over and against the egos and the old secrets that threaten to tear the band apart again.

The scenario is a comedy. It is fun to be aging dudes that believe the eighties never ended. But it is a comedy with a heart. It is about brotherhood. About following your dream. It is about wishing that the aging dudes gets one last chance to throw up the 'horns and hear the crowd scream along to the hit song "All for One (and Metal for Me)".
Mantastic skulle være det næste store band. De skulle sælge flere plader end Maiden. Have et federe show end Priest. Feste vildere, kneppe flere groupies og tage mere coke end Crüe.

Sådan blev det aldrig.

Bandet forsvandt i den syndflod af svenskergarn, falsetstemmer og leopardprikkede gamacher der udgjorde metalscenen i midtfirserne. De fik aldrig indspillet deres andet album og bandet gik fra hinanden. Medlemmerne har ikke set hinanden siden.

Før nu. Deres manager har skaffet dem en plads til det store firser-nostalgi-show Shout at the Eighties, hvor alle de store metalbands fra dengang skal spille i Los Angeles. Det her er deres sidste chance for det store gennembrud. Sidste chance for at blive de metalguder de stadigvæk ved er deres skæbne.

All for One (and Metal for Me) er en road movie, der følger bandets rejse mod L.A. og den store koncert. Undervejs bliver de konfronteret med en virkelighed, hvor de er mindre metalguder og mere midaldrende familiefædre med måne, midtvejskrise og alt, alt for stramme læderbukser. De kommer til at kæmpe for deres store gennembrud. Både mod en verden, der tror at firserne er ovre og imod de store egoer og gamle hemmeligheder, der truer med at rive bandet fra hinanden. Igen.

Scenariet er en komedie. Det er sjovt at være gamle tosser, der tror at firserne aldrig døde. Men det er en komedie med hjerte. Det handler om sammenhold. Om at følge sine drømme. Det handler om at ønske, at de gamle tosser får en sidste chance for at kaste djævlehorn og høre publikum skrige med på hittet All for One (and Metal for Me).
Played at
Awards
Winner, Bedste Formidling
[+]
Nominated, Bedste Roller
[+]
Trivia
Send corrections for this page