Prolog (2015)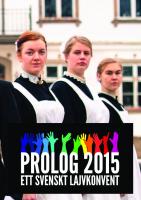 Location: Culturen, Västerås, Sweden
Date: 27. February - 1. March 2015
About the convention:
Konventet hade 382 deltagare som kom från hela landet. Konventet hade dessutom deltagare från Norge, Danmark och Finland. Den yngsta deltagaren var 13 år gammal och den äldsta 58 år. Majoriteten av deltagarna var 20-30 år. Under Prolog 2015 var 45 av deltagarna under 20 år.
Download
We haven't had access to a program for this convention. The list is simply based on external references, memory, rumors and so on and the list might not be completed.
If you have a correction or are in access of a program then please send us an update.
Links
Send corrections for this page