LinCon (2019)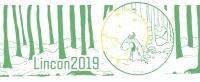 Location: Linköpings Universitet, Campus Valla, Linköping, Sweden
Date: 29. May - 2. June 2019
About the convention:
LinCon är ett spelkonvent i Linköping för alla som gillar till exempel rollspel, brädspel, figurspel, kortspel, lajv, eller tv-spel. LinCon arrangeras 2019 för 35:e året och är ett av Sveriges största och äldsta spelkonvent.

Viss information på hemsidan lincon.se kan komma att ändras för att stämma med 2019 års LinCon.
We haven't had access to a program for this convention. The list is simply based on external references, memory, rumours and so on and the list might not be completed.
If you have a correction or are in access of a program then please send us an update.
Organizers
Trivia
Den officiella siffran på deltagare blev 1826
Links
Send corrections for this page