DRF-Con (1992)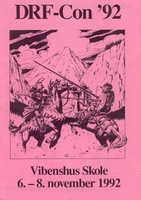 Location: Vibenshus Skole, København, Denmark 🗺️
Date: 6. - 8. November 1992
About the convention:
Under hele con'en var der bl.a. Play-by-mail-spillet "Kampen om Kronen", samt SAGA-bod.

Download
Organizers
Referenced in the following articles
Trivia
Con'en foregik på Vibenshus Skole. Af alarm- og vagthensyn var der ikke adgang mellem delene af skolerne ved jordhøjde, men man skulle i stedet bruge catwalks mellem bygningerne. Saga kvitterede ved i et efterfølgende nummer at bringe en labyrint med overskiften "Kort over DRF-con"
Send corrections for this page