Øens børn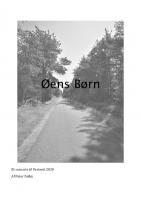 (AKA: Children of the Island)
Participants: 1 GM, 3 players
By
Download
Description
Three men has reached the point in their lives, where everything is in place, and they know how the next 30 years will unfold. But none of them are happy. They envy the life choices taken by the others and all of them consider if it is too late to change course.
Øens Børn er et realistisk hverdagsdrama om tabt venskab og om mænd, som selv har skabt deres problemer og derfor selv må løse dem.

"For 20 år siden drømte jeg om at ryste samfundet i sin grundvold. Nu er jeg en lykkelig mand, der bor i forstæderne og har et 9-16 job. Livet former sig sjovt, ik'?"

Tre barndomsvenner skal til en begravelse på Læsø, hvor de voksede op sammen for mange år siden. De er omkring 40 år gamle og ikke det sted i livet, de gerne vil være.

"Vi mødes da engang imellem! Hvornår sidst? Jo, måske 6… eller 8 år siden? Shit. Har det virkelig været så længe?"

Øens Børn handler om venner, som har svært ved at tale om deres liv. I løbet af en uge på Læsø får de mulighed for at tage deres drømme, livsvalg og venskab op til revision. Det er et langsomt scenarie, hvor man igennem karakterspil finder frem til de følelser, der kommer helt nede fra maven. Rollerne besøger barndomsøen med ungdomsvennerne og finder måske derigennem ordene til at inddrage de andre i deres tvivl.
Played at
Send corrections for this page