Natten til Europa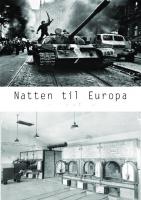 (AKA: The Night before Europe)
Genre: Drama
Participants: 1 GM, 4 players
By
Download
Description
The Night before Europe takes place in two of Europe's most traumatic chapters. The scenario begins in West Germany in 1981. Two women work together at an old farm during a violent storm that threatens to tear everything apart. While they try to save what can be saved, they revisit their past. Here one of them was a secretary at a factory during the Nazi regime. The other was a nurse at a closed institution in communist Czechoslovakia. In each other's company they will have to face the ghosts of the past for the first time.

The Night before Europe is for playes who loves serious drama, character development and complex feelings. In this game you must be able to take charge of your own experience and enjoy giving other players space and support. General knowledge about the historic periods the scenario takes place in is not a requirement but can be an advantage.

The scenario contains serious subjects such as loss, guilt, the Holocaust and systemic oppression of disabled people.

Natten til Europa forgår på tværs af to traumatiske kapitler i Europas fortid. I Tyskland i 80'erne arbejder to kvinder sammen på en gammel gård, op til og under en voldsom storm, der truer med at lægge alting øde. Mens de forsøger at rede hvad redes kan, genbesøger de på skiftevis hinandens fortid – den ene som sekretær på en fabrik i Tyskland under Naziregimet, den anden som sygeplejerske på en lukket institution i Tjekkoslovakiet under Kommunismen. I hinandens selskab kan kvinderne for første gang se den smertefulde fortid i øjnene.

Natten til Europa er for dig som elsker alvorligt drama, karakterudvikling og en knugende følelse i maven. I scenariet springes der mellem fortiden og nutiden og du kommer både til at spille hovedperson og biperson. Du skal kunne lide at være medskaber i fortællingen og kunne give plads og støtte til dine medspillere. Basisviden om de historiske perioder scenariet behandler, er ikke et krav, men kan være en fordel.

Scenariet indeholder tunge emner som tab, skyld, holocaust og systemisk overgreb på handikappede.

Played at
Send corrections for this page