Skifting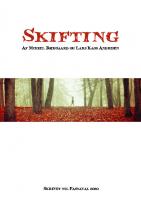 (AKA: Changeling)
Genre: Gyser
Participants: 1 GM, 4 players
By
Download
Description
Every inch of me longs for her. I want to smell her, take her in, feel her intense scent of decayed autumn leaves and flowers.

When Arve and Gaia first meet the earth is shaking. The mulch comes alive and the dead plants are awakening. And as the storm of teenage love intensifies terrible things are about to happen in the small town by the woods.

*

Changeling is an emotional, sensual thriller about feeling outcast together and experiencing the first raging, overwhelming love. Four players in two collaborative pairs will be playing the teenagers, each playing a certain aspect of that character. The players will be playing supporting characters too.

The game plays out in predetermined scenes set by the game master. The players play out the inner life of the characters and control their actions. In addition to that, the players help to colour the surrounding and to describe the sensual, violent attraction between the two main characters.

Alt i mig skriger efter hende. Jeg vil snuse hende ind, mærke hendes voldsomme duft af formuldede blade og svampet træ.

Da Arve og Gaia møder hinanden første gang ryster jorden. Mulden bliver levende og dyndet vækkes. Og snart sker der frygtelige ting i den lille by ved skoven, mens forelskelsens storm tager til i styrke.

*

Skifting er en følelsesladet, sanselig gyser om at være anderledes sammen og at føle den første voldsomme og altoverskyggende forelskelse. I er fire spillere om de to roller, og I spiller hver ét af to perspektiver af hver rolle. Derudover spiller I også en række bipersoner.

Selve scenariet udspiller sig i forudbestemte og fastlagte scener sat af spillederen, mens spillerne udspiller rollernes indre liv og styrer rollernes ydre handlinger. Spillerne er med til at give det omgivende miljø liv, og beskriver den sanselige, voldsomme tiltrækning mellem de to hovedpersoner.

Played at
Send corrections for this page