Dragonmeet (2022)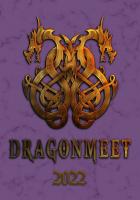 Location: Novotel Hammersmith, London, United Kingdom
Date: December 3, 2022
About the convention:
Hello Everyone

Back for another year, and once again, it's the biggest Dragonmeet that we've ever seen. We're now using every room that the Novotel has, including the ones in the Lobby, where the Bring and Buy and the Tournaments are being held. We've got more than a hundred traders appearing this year, three seminar tracks, the board games library, and of course, the charity auction in the evening. We've talked before about moving on from the Novotel, and we're now in discussion with both Olympia and Excel about where we go after this, but there's going to be a feedback session after the trade halls close where we'll be listening to everyone's thoughts and adding them in to the work we're doing for next year. This will be held in the Bourg on the mezzanine level at 18:30, just before the Charity Auction.

Have an excellent time, and let us know how we can make it better.
Download
Organizers
Send corrections for this page