Hexenjäger I: Vampirjäger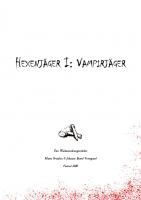 Genre: Action, Fantasy, Novellescenarie
Participants: 1 GM, 4 players
By
Download
Description
This Warhammer short story tells the tale of a group of Vampire hunters as their career takes them from the reeking sewers of Nuln to the decadent castles of the nobility. Will their hatred of the undead and their desire for vengeance be enough to see them through the fight?
Dusørjægeren Wilhelmina Sparr strøg svovlstikken mod bordets fedtede kant, og tændte sin cigarillos med et dybt hiv. Pustede ud og lod røgen kravle ud under den bredskyggede hat.

"Hey Knytter Kurt! Jeg tror du hellere må pakke regnormen der ned i bukserne og liste hjem til det rottehul du kommer fra!".

"Hvem helvede i satan er du? Og hvad bilder du dig", Wilhelmina trykkede på aftrækkeren til armbrøsten, og så med et skævt smil Kurts forbløffede ansigtsudtryk, da pilen spiddede regnormen.

Hun skulle nok sørge for, at han aldrig skulle genere nogen igen. Hun tog knojernet på og rejste sig. Kurt skreg.

Hexenjäger I: Vampirjäger er et lille scenarie om 4 menneskers jagt på hævn over den vampyr der har taget det vigtigste fra dem. Det foregår i Warhammer, men bruger kort og kick ass beskrivelser i stedet for tegninger.

Played at
Send corrections for this page