Mice & Dragons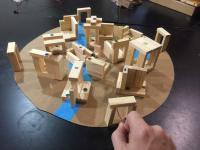 By
Description
Players are dragons. Their target is to catch in the same time more mice than other dragons in a cave. They can bend as they want the body of their dragon, to make it move through the pillars. But be careful not to make fall the entrance! The game ends after 2 hunts. Many different caves are available as the Mice King Cave, the Ninja Mice Cave or the Otto Water Cave. Each cave has a different way to play.

Keywords: dexterity, creativity, competition

About the designer: Romain worked for game industry for many years in different field as video games, TCG, production in China and he recently explores the game design. He especially likes to experiment about games which are half toys, half boardgame and half hey-what?s-going-on-there.
Spillerne er drager. Deres mål er at fange flere mus på samme tid end de andre drager i hulen. Spillerne kan bøje dragen som de vil for at den kan komme mellem søjlerne. Men pas på at indgangen ikke styrter sammen! Spillet slutter efter to jagtrunder. Der er adskillige huler, såsom Mice King Cave, Ninja Mice Cave og Otto Water Cave. Hver hule kræver en forskellig tilgang.

Nøgleord: dexterity, creativity, competition
Played at
Awards
Nominated, Bedste Innovation
[+]
Send corrections for this page