De hævngerrige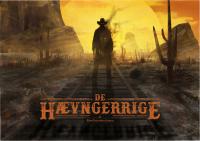 (AKA: Out for Vengeance)
Genre: Action, Drama
Participants: 1 GM, 3 players
By
Download
Description
The gunslingers 13 commandments:

When you have to shoot, shoot, don't talk.
Never beg another man.
Punches are like bullets; always make the first ones count.
If you wound a man, you'd better kill him.
Never get between a gun and its target.
The right bullet at the right time.
If you untie a gunslinger, take his gun first.
Never trust anyone.
Accept all challenges, no matter the cost.
When you start killing, you'll find you cannot stop.
Your past will always catch up with you
Every gun has its own melody
There are very few problems that can't be solved with a Smith & Wesson

Out for vengeance is a scenario about revenge, treachery and honour among gunslingers. Three retired gunslingers come together to finally get the revenge they crave. Once and for all.

It's a spaghetti western with silent, angry, spurned men with everything to lose.

Gunslingerens 13 bud:

1. Bed aldrig en anden mand om nåde.
2. Din fortid vil altid indhente dig.
3. Hvis du har tænkt dig at tale, så tal. Hvis du har tænkt dig at skyde, så skyd.
4. Stol aldrig på nogen, især ikke en anden gunslinger.
5. Kom aldrig imellem en revolver og dens mål.
6. Hvis du sårer en mand, så sørg for at slå ham ihjel.
7. Accepter alle udfordringer uanset hvad.
8. Hvis du slipper en gunslinger løs, så tag hans revolver først.
9. Slag er som kugler, sørg for at det første tæller.
10. Når først du er begyndt at dræbe, så kan du ikke stoppe igen.
11. Det er ikke dit ord, der tæller, men hvem du giver det til.
12. Der er ganske få problemer, der ikke kan løses med en Smith & Wesson.
13. Hver revolver har sin egen melodi.

De hævngerrige er et scenarie om hævn, forræderi, og den ære der er mellem professionelle. Tre pensionerede gunslingers har fundet sammen for, at få den hævn de så indædt higer efter. En gang for alle.

Det er en spaghettiwestern med tavse, vrede og forsmåede mænd.

Scenariet kræver ingen forhåndskendskab til westerns.
Played at
Awards
Nominated, Bedste Scenarie
[+]
Nominated, Bedste Virkemidler
[+]
Nominated, Deltagernes Pris (Tredjeplads)
Send corrections for this page