Midsummer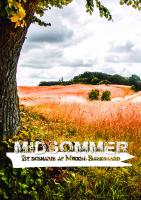 (AKA: Midsommer)
Genre: Drama, Gyser
Participants: 1 GM, 4 players
By
Download
Description
Midsummer nights are said to be the time of the dead – at least that's what they used to say in the countryside. When the nights turn short and the light never fully disappears death can't hold its grip, they said. Then some dead people can return to life as nothing has happened – at least for a little while.

Far out in the countryside Lene and her teenage daughter Liv lives in a house, haunted by grief after Lasse, Lene's husband and Liv's father, died several years ago. Sorrow has pulled mother and daughter apart making them live separate lives even though they share the same roof. Lene digs into her relationship with her new boyfriend Jesper who recently has moved into the house as well – and Liv sinks into emptiness while shouting out her loneliness in a ghostlike, empty cyberspace where nobody listens and nobody ever writes back.

The summer is warm this year and times are about to change when Lasse one day returns to the house even though he has been dead for years.

—

Midsummer is an intense love story with a hint of horror. The scenario tells the story of a man rising from the dead to return to his family.

You can expect scenes full of tension and hard dilemmas when you are forced to choose between your own happiness and the happiness of the ones you love. Every scene is set in the family's house. The four players each plays one of the four characters – they are the only characters in the scenario.

The players can expect tense scenes exploring the character's relations and conflicts as well as flashbacks in which the players explore their characters' backgrounds and tells about the scenario's past.
Ude på landet siger man, at midsommer er de dødes tid. Når nætterne bliver korte, og lyset aldrig helt forsvinder, kan døden ikke altid holde sit greb. Så kan døde vende tilbage til livet, som om intet er hændt – i hvert fald for en stund.

I et hus langt ude på landet lever Lene og teenagedatteren Liv hver sit liv trods en knugende sorg, der binder dem sammen.

Lasse er der ikke mere, han ligger i sin grav nederst i haven. Her er han kun et trist minde for sin kone og datter. De kunne tidligere finde hinanden i sorgen, men er nu gledet væk i hver sin verden – Lene i forholdet til sin nye kæreste Jesper, der lige er flyttet ind – og Liv i ensomheden og tomme tweets ud i et spøgelsesagtigt cyberspace, hvor ingen lytter.

Men alting ændrer sig, da Lasse en dag vender tilbage til sit hus.

—

Et knugende kærlighedsdrama med gyserelementer om en mand, der en dag rejser sig fra de døde. Forvent tætte scener, svære dilemmaer og ubærlige konsekvenser af kærlighedens valg. Alle scener udspiller sig i familiens hus ude på landet, hvor en tung midsommerstemning hænger over huset. Spillerne spiller hver en af de fire hovedpersoner, som er de eneste fire karakterer i scenariet.

Scenariet rummer både tætte relationsscener, konflikter og en række fortællesekvenser, hvor spillerne uddyber rollerne og fortæller om tiderne, der er gået forud.
Played at
Awards
Nominated, Bedste Formidling

Fra forsiden og frem emmer scenariets tekst af tung sommervarme og sanselighed, men giver samtidig spillederen stærke råd og vejledning til at føre spillerne helt ind i familietragediens greb.
Send corrections for this page