Mother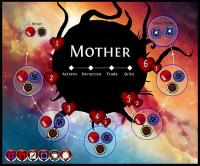 Genre: Sci-Fi
Participants: 2-4 players
By
Description
She's your mother, a planet-sized organism floating in space. Around her your father orbits as a small moon. The father moon is a place of bone forests, endorphin geysers, a great blood river and fields of eyes. This is where Mother's eggs hatch and your life as a hatchling starts – and where a deadly competition takes place between you and your ruthless siblings.

Show Mother your dominance over your siblings to ensure your survival.

· Grow stronger and gain new abilities.
· Harvest resources to use, hoard or trade back to father for precious milk.
· Gain rewards by collecting and feeding Mother her favourite snack, the eyes of the father moon.

Present all your resources to Mother at the end of the game (or after the first year as a hatchling) to see whom she will grant the most love. In the end, only the best loved hatchling will be allowed to grow up – all the others will be devoured by Mother.

FACTS

Varighed inkl. regler: 1,5-2 timer

Spillere: 2-4

Sprog: English – dog kun lidt tekst. Al tekst er offentlig og kan oversættes undervejs.

Kompleksitet: 3/5

Held eller Skill på en skala mellem Held (1) eller Skill-baseret (5): 3/5

Genre: sci-fi-body horror, strategy

Mekanikker: resource management, economic, card drafting

Om designeren: Living across the bridge in Malmö, Håkan spends his nights designing board games. To pay for cubes, glue and paper, he works as a level designer at IO Interactive in Copenhagen.
Played at
Awards
Winner, Bedste Brætspil

Fire nyudklækkede organismer kæmper om deres planetmoders kærlighed på en måne, der også er deres fader. Gennem benbjerge, blodfloder og endorfingejsere konkurrerer de for ikke at blive fortæret af deres eget ophav.

Mother nomineres for et organisk grotesk tema, der fint blender med bundsolide spilmekanikker. Moders kærlighed er lunefuld, og det er fra starten uforudsigeligt hvad hun værdsætter mest. Dette giver både spænding i spillet og stor replayability. Endelig har spillet et originalt bud på en markedsmekanik, der involverer faders organer.

"I hope mother will be pleased with this offering of Father's eyes."
Nominated, Bedste Innovation

Har du nogensinde spekuleret over, hvordan det føles at være en nyudklækket klat slim, der kravler rundt i din fars krop og høster hans kropsvæsker for at fodre dem til din mor i et drabeligt kapløb med dine søskende om hendes kærlighed for derved undgå at blive fortæret af hende og få en chance for at leve?

Mother nomineres for et slibrigt tema, der bringer nyt liv (og død) til en genre hvor temaer ellers ofte gentages og klicheer er udbredte. Temaet understøttes også af originale markedsmekanikker og en gradvis afsløring af ressourcernes værdi i slutspillet, der tilsammen giver et unikt feel.

"Det eneste, der er stærkere end Moders kærlighed er Moders sult."
Send corrections for this page