Et hjerte af guld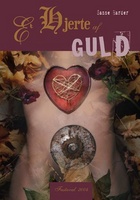 RPG system: Systemløst
Genre: Drama, Projekt R'lyeh
Participants: 1 GM, 4 players
By
Download
Description
It is December and Juliane is on the ferry's deck. She is on the way to Jutland to celebrate Christmas with her family. The sky is gray, the ocean is gray, and the sun is low and stinging. Snow dots her cheeks, and she snores through her nose to prevent it from running. Over the loudspeaker, the captain's voice is heard. They will soon be in port. In a moment she and her mother will have to climb down into the crowded bus. Then three hours more driving, sick all the way. It's not any kind of a good Christmas. Perhaps it's grandma Lise's last, because she has been diagnosed cancer. But that's not what Juliane has in mind. For Juliane has a secret.
Det er december, og Juliane står på færgens dæk. Hun er på vej til Jylland for at fejre jul med familien. Himlen er grå, havet er gråt, og solen er lav og stikkende. Snekorn prikker mod hendes kinder, og hun snuser ind gennem næsen, for at den ikke skal begynde at løbe. Over højtaleren lyder kaptajnens stemme. De er snart i havn. Lige om et øjeblik bliver hun og moren nødt til at kravle ned i den overfyldte bus. Så tre timer mere med køresyge møgunger, der hyler hele vejen. Hvem der sad på bagsædet af den Audi, som morens kusine kører i. Det er ikke en hvilken som helst jul. Måske er det bedstemor Lises sidste, for hun har fået konstateret kræft. Men det er nu ikke det, Juliane har i tankerne. For Juliane har en hemmelighed.

"Et hjerte af guld" er et scenarie om de nære og genkendelige relationer. Det handler om en mor og hendes datter, om parforhold der skrænter, og om hvordan små og trivielle dramaer kan blive så vigtige, at de fylder hele ens liv. Det handler om, hvordan selv de bedste intentioner nogle gange kan ende i misforståelser. Måske fordi kommunikationen halter, eller fordi perspektivet er forkert. Det handler også om at være et godt menneske - både overfor sin familie og sig selv.
Played at
Awards
Nominated, Bedste Spilpersoner
Nominated, Bedste Redigering
Links
Send corrections for this page