The old fat pike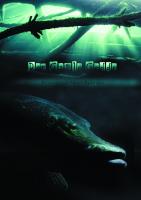 (AKA: Den Gamle Gedde)
Participants: 1 GM, 3 players
By
Download
Description
Three boys head go after The Old Pike, a slimy, horny beast, in the canals. Out here they meet a deranged world with personal boundaries get pushed, leading towards some sort of violation.

Preview

In the canals cutting through the flat land near The Fjord, The Old Pike lives. It's a horny, slimy beast, who generations have been telling stories about. It is said that if you catch the beast, you're suddenly allowed to do everything you want.

As Simon, Malthe and Tobias head out to catch The Pike, they are sucked into a world without boundaries – and into a world they don't understand but are intensely drawn to. Out here the boys' growing sexuality starts to roar, making the trip about a lot more than catching a fish.

It is a poetic journey into nature as well as a rough world in which sexual boundaries doesn't exist. As teenage hormones, the fishing trip and The Pike's calling merge together, the boys get into deeper and deeper water, pushing them towards abuse or violation.

The Old Fat Pike is a dark coming of age story that plays out in a twisted larger-than-life setting. Even though it is about teenagers it's not a story for teenagers at all. Imagine Stand By Me, meeting Deliverance and Vasen Road.

Player type

You love playing traditional role playing as well as more narrative, poetic scenes. You can expect friendship and rivalry and you shouldn't be afraid to push the character's boundaries. But you should respect the boundaries of both yourself and your co-player. Everybody can to stop the game.

Game master type

As the game master you create atmosphere and set predefined scenes in which you push the characters' rivalry and growing sexuality. You also like to affect the scenes by asking questions and giving subtle suggestions, leading the game towards a more and more uncomfortable, uncanny atmosphere.

Number of players/game facilitators: 3/1

Runtime: Approx. 4 hours

Language: Can be played in both Danish and English. Material for facilitator only available in Danish.

Age restriction: 18 years.

Amount of reading: 5 pages.

Online: Yes

Keywords:
Sexuality
Fishing Trip
Boundaries getting overstepped.
Tre drenge tager ud for at fange Gedden, et slimet, liderligt bæst, i kanalerne ud mod Fjorden. Det bliver et møde med en forskruet verden, hvor grænser rykker sig, og det hele fører mod et overgreb.

Foromtale

I kanalerne i det flade land ud til Fjorden lever Den Gamle Gedde – et liderligt, slimet bæst, som store drenge i generationer har fortalt om. For fanger man bæstet, kan man pludselig få lov til det hele, siges det.

Da Simon, Malthe og Tobias tager ud for at fange Gedden, bliver det en rejse ind i en verden uden grænser – ind i verden, de ikke forstår, og som de alligevel er intenst draget af. Herude river og flår den gryende seksualitet i dem, og snart kommer turen til handle om meget mere end at fange en sagnomspunden fisk.

På turen oplever drengene både en poetisk rejse ud i naturen og et møde med en barsk verden, hvor seksuelle grænser ikke findes. Det sender drengene ud på dybt vand og mod et overgreb, efterhånden som fisketur, hormoner og Geddens kalden smelter sammen.

Den Gamle Gedde udspiller sig i en twistet larger-than-life-agtig setting. Det er en mørk coming of age-historie, der nok handler om halvstore børn, men bestemt ikke er for børn. Tænk Stand By Me møder Zappa og Vasen.

Spillertype

Du elsker både at spille traditionelle rollespilsscener og fortællende, til tider poetiske, scener. Forvent både venskab og rivalisering, og du skal ikke være bange for at skubbe til rollernes grænser. Men husk at respektere både dine egne og dine medspilleres. Alle spillere kan sige fra.

Spilledertype

Som spilleder holder du af at male stemning og sætte forud-beskrevne scener, hvor du skubber til rollernes interne rivalisering og voksende seksualitet. Du holder også af at påvirke scenerne med spørgsmål og hentydninger, som fører spillet fra det mere uskyldige mod det mere og mere ubehagelige.

Antal spillere og spilledere: 3/1

Tid: Ca. 4 timer

Sprog: Kan spilles på dansk og engelsk. Spilledertekst kun på dansk.

Aldersgrænse: 18 år.

Læsemængde: 5 sider

Online: Ja

Stikord:
Seksualitet
Fisketur
Overskredne grænser
Played at
Awards
Winner, Bedste Roller

De tre drenge har fra starten intense magtkampe om, hvem der har gjort
og tør gøre mest. De medrivende prosastykker giver et nuanceret indblik i
drengenes indre liv, og spillerne får alibi til at gå på opdagelse i rollernes
spirende seksualitet mod det grænseløse og uhyggelige.

From the start, the three boys have intense power struggles about who is
willling to go the furthest. The inspiring pieces of prose give a nuanced feel
for the inner lives of the boys, and the players are provided with an alibi to
explore the characters' newfound twisted sexuality.
Winner, Bedste Fortælling

Et snigende ubehageligt coming-of-age-drama om tre drenge og gruppepres.
Vi møder pirrende, destruktiv seksualitet i jagten på den gamle, liderlige
gedde. Fortællingen tordner mod et uundgåeligt overgreb, mens scenariet
giver stof til eftertanke om arv, miljø, bristet uskyld og kunsten at sige nej.

An insidious and unpleasant coming-of-age drama about three boys, peer
pressure, blooming destructive sexuality, and the hunt for the old, lecherous
pike. The story moves towards an inevitable violation, and makes you think
about nature and nurture, lost innoncence, and the art of saying no.
Winner, Bedste Formidling

Gedden er stemningsfuldt tilstedeværende fra første side, og man
bliver som læser godt klædt på, inden man begiver sig ind i scenariets
perverterede og liderlige univers. De vedlagte sceneoversigter gør det nemt
og overskueligt at køre scenariet direkte fra bladet.

The pike is present from the first page and as a reader you are well
prepared before entering the perverted and horny universe of the scenario.
The attached scene overviews make it easy to run the scenario directly
from the page.
Nominated, Bedste Scenarie

Myten om den gamle gedde leder roller såvel som spillere ud i landskabet,
hvor grænsen mellem rigtigt og forkert udviskes. Den liderlige gedde er
konstant nærværende under overfladen, og scenariet behandler det svære
emne om destruktiv seksualitet og overgreb med indlevelse og empati.

The old, mythical pike lures the players into a landscape that erases the
boundaries between right or wrong. The prurient pike is constantly lurking
beneath the surface, and the scenario manages to treat the subject of destructive
sexuality and abuse with empathy.
Nominated, Bedste Virkemidler

Reglen om, at man ikke må sige fra, tilbageglik fra fremtiden og kravet om,
at det skal ende med et overgreb, er en skarp pakke af virkemidler, der alle
trækker i samme retning. Det former fortællingen og skaber en latent trussel,
der gennemsyrer scenariet.

The fact that you have to obey the others, flashbacks, and the demanding
assault is a clearcut collection of mechanics that all fit together. It shapes
the story and creates the threath that is at stake.
Send corrections for this page