DalCon I - Desperate huc intrantes (1992)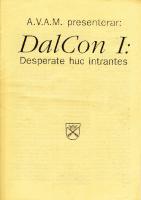 Location: Forssaklackskolan, Borlänge
Date: 4. - 6. January 1992
About the convention:
Spelföreningen A.V.A.M. håller 1992 sitt första egna konvent tillsammans med flera av Sveriges ledande konventsarrangörer, rollspelsaffärer och rollspelskonstruktörer bjöds på ett flertal högklassiga arrangemang.
Download
The program is available online but we haven't typed in the list of games yet. We could use your help - if you want to help us by transcribing information from the program into the database please contact us.
Organizers
Send corrections for this page