Con 92 (1992)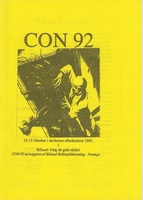 (AKA: Pentacon III)
Location: Enggårdskolen, Billund
Date: 13. - 15. October 1992
About the convention:
Arrangeret af Billund Rollespilsforening.

Alternative spil på con'en:
"Drager og gåder"
"Folketinget (En form for live)"
"Magt-spillet"
"Mafia"

Download
The program is available for download but we haven't typed in all of the presentations of the games yet. We could use your help - if you want to help us by transcribing presentations from the program into the database please contact us.
Organizers
Send corrections for this page