Forum (2019)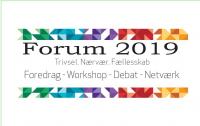 Location: TRoA's lokaler, Nørresundby
Date: 27. - 29. September 2019
About the convention:
Forum er Landsforeningen Bifrosts årlige kongres, som samler rollespillere, brætspillere, milsimmere, grejnørder, cosplayere og alle vores nørdevenner fra hele landet. Det er spændende mennesker, gode idéer og nye udfordringer!

Vores vision er at skabe Forum19, der kan bygge bro på tværs af miljøet, af hobbyer og aldersgrupper med masser af inspirerende indhold, interaktion og møder imellem mennesker. Vores vision er at bygge videre på de forgangne års udvikling med særligt fokus på at inkludere for alle – nye om erfarne, unge som ældre.

Arrangeret af Landsforeningen Bifrost.
We haven't had access to a program for this convention. The list is simply based on external references, memory, rumors and so on and the list might not be completed.
If you have a correction or are in access of a program then please send us an update.
Awards:
Organizers
Links
Forums hjemmeside: http://forumbifrost.dk/
Facebook-begivenhed for kongressen: https://www.facebook.com/events/903140896707624/

Send corrections for this page