Chop Con (1996)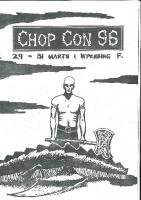 Location: Ejegodskolen, Nykøbing Falster
Date: 29. - 31. March 1996
About the convention:
Chop Con '96 blev arrangeret af foreningerne Dreamlands RPC, Nykøbing Falster & Goblin, Nakskov samt af folk omkring Chop Con.
Download
The program is available for download but we haven't typed in all of the presentations of the games yet. We could use your help - if you want to help us by transcribing presentations from the program into the database please contact us.
Organizers
Send corrections for this page