ARL MiniCon (2003)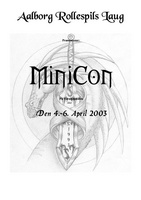 Location: Tornhøjskolen, Aalborg, Denmark
Date: 4. - 6. April 2003
About the convention:
Som noget nyt vil Arl til at afholde en MiniCon. Vi har i to år holdt mange små interne conner, og et klubmesterskab, der har historie helt tilbage fra 1993. Med MiniCon initiativet har vi nu gjort disse små hyggelige conner eksterne.

For de, der ikke skulle vide det, er en con en weekend fyldt med rollespil og alt hvad dertil hører. Dagene fra fredag til søndag bliver delt op i fire blokke, hvor man har muligheden for at spille nogle prægenerede scenarier eller være master i disse. Man behøver ikke at have kendskab til systemerne eller sågar stor rollespilerfaring for at kunne deltage.

I vores nye serie af conner vil vægten blive lagt på godt rollespil med noget for enhver smag, hyggeligt cafe miljø og godt kammeratskab. Vi håber så med tiden at vores MiniCon vil udvikle sig til en mellem con og senere en mega con.
Send corrections for this page