ARCON 38: Multivertshuset (2022)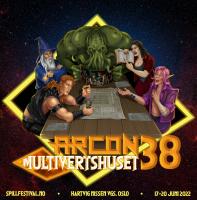 Location: Hartvig Nissen vgs på Helsfyr, Norway
Date: 17. - 20. June 2022
About the convention:
Alle gode eventyr starter i et verthus, men kke at alle vertshus er like. Noen er betydelig mer enn andre vertshus, og etter to år med intens leting har vi funnet det beste.

Arcon ønsker med dette velkommen til det magiske, mytiske og mystiske "Multivertshuset" Med ei dør til en hver verden er Multivertshuset den beste møteplassen i universet. (Vårt og alle andres) Dette er stedet for å møte gamle venner, nye fiender og eventyrere fra alle verdeners hjørner. Bare de modigste (eller mest dumdristige) har funnet dørene og gått gjennom. Ikke alle har kommet ut igjen. Her er døra, vil du være med på eventyr?

Velkommen til Norges største spillfestival, nå også på internett! 17. - 20. juni 2022 samles vi igjen til Arcon. Bli med til Hartvig Nissens skoles midlertidige lokaler på Helsfyr. Hiv deg på t-banen, pakk spillbagen full og gjør deg klar for ei langhelg med rollespill, brettspill og mye, mye mer på Spillfestivalen Arcon!

Noe du savner på programmet? Registrer et spill, registrer to, registrer mange! Lyst å spille rollespill? Det har vi og lyst til, skriv en modul! Lyst å hjelpe til? Meld deg som frivillig! Lyst til å spille spill? Meld deg på! Vi snakkes på Arcon!
Organizers
Send corrections for this page