CREATE Jam - Spring 2020 (2020)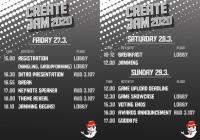 Location: CREATE Aalborg University, Denmark
Date: 27. - 29. March 2020
This convention has been cancelled.
About the convention:
We're back again with the Spring edition! 🌺
Thanks to our awesome partners @GameHubDenmark and AAU Game Hub, the jam is once again open to everyone ❤️

For this event, again, every participant has to register! We will let you know, when the registration form is up on our website 😊

More info about the timeplan and keynote speaker is coming soon.. ✌️
Sleeping in the building for non-local participants can be arranged 😴
Download
We haven't had access to a program for this convention. The list is simply based on external references, memory, rumours and so on and the list might not be completed.
If you have a correction or are in access of a program then please send us an update.
Links
Send corrections for this page