CREATE Jam - Spring 2020 (2020)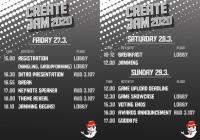 Plats: CREATE Aalborg University
Datum: 27. - 29. mars 2020
Detta konvent är inställt
Om konventet:
We're back again with the Spring edition! 🌺
Thanks to our awesome partners @GameHubDenmark and AAU Game Hub, the jam is once again open to everyone ❤️

For this event, again, every participant has to register! We will let you know, when the registration form is up on our website 😊

More info about the timeplan and keynote speaker is coming soon.. ✌️
Sleeping in the building for non-local participants can be arranged 😴
Ladda ned
Vi har inte fått något program för detta konvent, så översikten över spel är endast baserad på externa referenser, hågkomster, tidiga rykten, etc, och är därför kanske inte komplett. skicka oss en rättelse.
Länkar
Facebook event: https://www.facebook.com/events/617756145438442/

Skicka in rättelser om den här sidan