CREATE Jam - Spring 2020 (2020)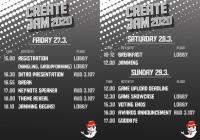 Sted: CREATE Aalborg University
Dato: 27. - 29. marts 2020
Denne con er blevet aflyst.
Om kongressen:
We're back again with the Spring edition! 🌺
Thanks to our awesome partners @GameHubDenmark and AAU Game Hub, the jam is once again open to everyone ❤️

For this event, again, every participant has to register! We will let you know, when the registration form is up on our website 😊

More info about the timeplan and keynote speaker is coming soon.. ✌️
Sleeping in the building for non-local participants can be arranged 😴
Download
Vi har ikke haft noget program for denne kongres, så oversigten over spil er blot baseret på eksterne referencer, hukommelse, tidlige rygter, etc., og er derfor måske ikke komplet.
Har du en ændring, eller ligger du inde med et program, så send os en rettelse.
Links
Facebook event: https://www.facebook.com/events/617756145438442/

Indsend rettelser for denne side