Intercon C (2003)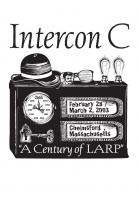 Sted: Chelmsford, Massachusetts, USA
Dato: 28. februar - 2. mars 2003
Om kongressen:
Welcome to Intercon C, celebrating "One Hundred Years of Live-Action Role Playing!" While
LARPing may or may not really be that old, it certainly has a deep and vibrant history so far. My own personal experience starts in September of 1989, when my first LARP was the first run of Dragon in Boston. For others, it goes back further, from gaming buddies who got together to play out their tabletop RPG sessions to more organized groups on college campuses. The past of LARPing is rich with success, strife, heartbreak and heroics.

In the present, we now have Intercon C, the latest in a series of all-LARP conventions organized first as SILicon by the Society for Interactive Literature, then as Intercon when the Interactive Literature Foundation took on the duties of organizing the con, and now by New England Interactive Literature (starting with Intercon A). This is possibly the biggest Intercon ever, and hopefully will be remembered as one of the best. A lot of people (to whom I am eternally grateful) volunteered and pooled their efforts to put it together, from the con staff to the Game Masters to the volunteers who donate a little time during the con to help things run smoothly. It goes to show that if everyone helps, even a little, great deeds can be accomplished. So if you find you have a bit of spare time, feel free to stop by the Operations desk and see if any volunteers are needed. You (and we) will be glad you did.

Having covered the past and present, now is a good time to look to the future. Intercon D is already in the planning stages, and Tim Lasko (the con chair for I-D) will need folks to help organize and prepare for next year (www.intercon-d.org). Besides Intercon, though, NEIL wants to help with the general promotion of LARP, and if there's anything we can do to help you either bring LARP to where you live or support LARPs already in your area, don't hesitate to let us know.With the interest and support of the gaming community, I'm confident that LARPing will be around a hundred years (or more) from now.

For now, I hope you all have fun this weekend. If you have any questions, feel free to talk to the I-C staff.
Last ned
Arrangører
Lenker
Send inn rettelser om denne siden