Beast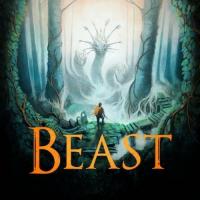 Participants: 2-4 players
By
GothCon XLIV (2021), Online, Sweden
Description
Welcome to the Northern Expanse, a place where nature is still unexplored, mystical and dangerous. When the humans first arrived, they thought they found an unspoiled paradise, filled with bountiful forests, lakes swimming with fish and cold freshwater flowing from the mountains. But as their settlements expanded and the surrounding forests grew thinner, nature itself pushed back. Great creatures known as Beasts emerged, and with their fangs, claws and mystical powers, they proved an incredible threat to the humans. In order to protect the settlements, humans enlisted specialized hunters, tasked with tracking and killing the Beasts before too many of their kin perish.

Beast is a one-vs-many type of game, in which one player takes the role of a Beast; a giant, godlike creature who wants to fend off the humans invading her domains. All other players take the role of hunters, who cooperate in an epic hunt to track and kill the Beast.

Hidden movement
The Beast uses a deck of direction cards to move over forests, swamps and caverns, using guile and deceit to hide its track from the hunters. However, whenever a hunter moves over a location where the Beast has previously been, a trail appears. Only when a hunter searches a location or the Beast itself attacks an unsuspecting target is the Beast's actual position revealed. More so, each hunter has but one chance of searching each round, making it a tense and difficult decision. Hunters seldom have full information whether the trail they're pursuing contains the Beast's actual location, or if the trail has already gone cold.

Asymmetrical Drafting
Each action you perform in this game is done by playing a card from your hand (up to a maximum of two cards per turn). This means that if a player wants to search, attack or move, they need to have a card in their hand that lets them do that. Before each round, both hunters and Beast participate in a draft for the most important cards. All action cards can be used by both Beast and hunters alike.

Teamwork above all
In order to win this game, you either need to cooperate every step of the way if you play as a hunter, or skillfully outmaneuver your opponents if you play as Beast. On their own, hunters are never stronger than the Beast. Only when hunters communicate, strategize and combine their actions can they bring down the Beast before it's too late.
Velkommen til de nordlige vidder, et sted hvor naturen stadig er uudforsket, mystisk og farlig. Da mennesket først ankom, troede de, at de fandt et uspoleret paradis fyldt med dejlige skove, søer med fisk og livgivende ferskvand der strømmer fra bjergene. Men da deres bosættelser udvidede sig, og de omkringliggende skove blev tyndere, svarede naturen igen. Store væsner kendt som Beasts opstod, og med deres hugtænder, kløer og mystiske kræfter viste de sig at være en utrolig trussel mod mennesker. For at beskytte bosættelserne tilkaldte menneskene sig specialiserede jægere, der havde til opgave at spore og dræbe dyrene, før for mange af deres pårørende omkom.

Beast er et én-mod-mange spil, hvor én spiller tager rollen som et Beast; en kæmpe gudlignende skabning, der ønsker at udrydde de mennesker der invaderer hendes domæner. Alle andre spillere tager rollen som jægere, der samarbejder i en episk jagt for at spore og dræbe udyret.

Skjult bevægelse
Udyret bruger et sæt retningskort til at bevæge sig over skove, sumpe og huler ved hjælp af snuhed og bedrag for at skjule sit spor for jægerne. Men hver gang en jæger bevæger sig over et sted, hvor udyret tidligere har været, vises der et spor. Først når en jæger søger et sted, eller udyret selv angriber et intetanende mål, afsløres udyrets position. Hver jæger har kun en chance for at søge hver runde, hvilket gør det til en anspændt og vanskelig beslutning. Jægerne har sjældent fuld information om, hvorvidt sporet de følger indeholder udyrets faktiske placering, eller om sporet allerede er gået koldt.

Asymmetrisk kort-trækning (drafting)
Hver handling du udfører i dette spil, udføres ved at spille et kort fra din hånd (op til maksimalt to kort pr. tur). Det betyder, at hvis en spiller ønsker at søge, angribe eller flytte, skal de have et kort på hånden, der lader dem gøre det. Før hver runde deltager både jægere og Beast en kort-trækning (draft). Alle actionkort kan bruges af både Beast og jægere.

Teamwork frem for alt
For at vinde dette spil skal du enten samarbejde tæt hele vejen, hvis du spiller som en jæger, eller du skal dygtigt overmanøvrere dine modstandere, hvis du spiller som Beast. På egen hånd er en jæger aldrig stærkere end udyret. Først når jægerne kommunikerer, strategiserer og kombinerer deres handlinger, kan de nedbringe udyret før det er for sent.
Lär dig och spela spelet Beast, utvecklat av Aron och Elon Midhall. Spelet går ut på att en spelare tar rollen som ett urgammalt monster, och de andra spelarna iklär sig rollen som jägare, vilka febrilt jagar monstret innan monstret lyckas driva människorna bort från sina skogar. Spelmässigt innehåller det allt från "hidden movement" till asymmetrisk drafting och en stark betoning på samarbete. Spelet spelas på Tabletop Simulator.
Played at
Awards
Nominated, Bedste Brætspil

Morgenen gryr og jagten begynder, i dette asymmetriske brætspil, hvor jæger jagter byttet. Som jægerne, sporer man bæstet igennem skov og sump, konstant på tæerne, mens blodtørsten vokser. Alene er jægerne svage, men sammen er de mere end en mundfuld. Når man spiller som bæstet er det med en konstant spænding i luften. Det maleriske narrativ og den velafbalancerede grundmekanik får spillerne til skiftevis at føle sig under- og overlegne. Man er nødt til at bruge snilde og list for at overleve, nogle gange på et hængende hår.

Dawn breaks, and the hunt begins, in this asymmetrical board game of hunter and prey. Playing as the hunters, you track the beast through the swamps and forests, constantly on your toes and with increasing bloodthirst. Alone the hunters are weak, but together, they are more than a match. Playing as the beast there is a constant tension. The evocative narrative and well balanced core mechanics, make you feel both over- and underpowered. You must resort to trickery and evasion to survive, often by just the skin of your teeth.
Links
Send corrections for this page