Stockholm Syndrome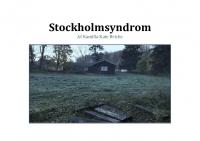 (AKA: Stockholmsyndrom)
Participants: 1 GM, 4 players
By
Download
Description
Frank has kidnapped Karen and her two children, Louise and Anton. He forces them to live out his fantasies of an idyllic family life. As long as everybody is behaving, everything will be OK.

Keywords: Drama – semi-live – traumatic

After Dad died, Karen's life has fallen apart. Her failures are mostly on the domestic front, where she leaves everything to her teenage daughter. When Karen finally starts coming out of her shell, she meets Frank – and that's the worst thing that's ever happened to her.

Frank kidnaps the family and uses them to live out his memories and fantasies of a happy family life. There is no way out, and the family tries to make life with Frank work.
Is it only a matter of survival? Or is Frank, in his own twisted way, the best thing that could have happened?

Stockholm Syndrome is a scenario about a broken family, and how they handle it when their lives are suddenly torn away from under their feet.
The scenario will be played semi-live, is scene-based and linear, with a focus on the relationship between the characters and character development.

About the author:
Kamilla has been a fixture at Fastaval since 2013. She has previously written the scenario Deadly Wings together with her husband. She's also been an organizer every year since then. Now she writes about child trauma and a twisted family life.
Frank har kidnappet Karen og hendes 2 børn, Louise og Anton. Han tvinger dem til at udleve sine fantasier om familieidyl og hygge. Når bare vi hygger os, er alting godt…

Stikord: Drama – semi-live – traumatisk

Efter fars død er Karens liv faldet fra hinanden. Hun svigter mest på hjemmefronten, hvor hun overlader alt til sin næsten voksne datter. Da Karen endelig begynder at turde komme ud af sit skjold, møder hun Frank – og det er det værste, der nogensinde er sket for hende.

Frank kidnapper familien, og bruger dem til at udleve sine minder og ideer om glade familiestunder. Der er ingen vej ud, og familien prøver at få et liv til at fungere med Frank.
Er det kun et spørgsmål om overlevelse? Eller er Frank, på sin egen forskruede måde, det bedste der kunne være sket?

Stockholmssyndrom er et scenarie, der handler om en knust familie, og hvordan de håndterer det, når deres liv pludselig bliver revet væk under fødderne på dem.
Scenariet spilles semi-live, scenebaseret og lineært, med fokus på relationer og karakterudvikling.

Om forfatteren:
Kamilla har været fast inventar på Fastaval siden 2013. Hun har tidligere skrevet scenariet Dødbringende Vinger med sin mand og været arrangør alle årene. Men nu skriver hun solo om børnetraumer og et forskruet familieliv.
Played at
Awards
Nominated, Bedste Fortælling
[+]
Send corrections for this page